This week we had to use all manner of alternative materials that we could possibly find in a storage locker. (Stash did not count. Although, I could put my stash in a storage locker and I know I would have more room in the house. !)
I used these old zippers that were literally found in storage at school. I am not sure what they are for, but there sure are a lot of them. Yards and yards, with no connector piece at either end. So strange.
I made a dress using only non-functional zipper yardage and one hot pink zipper (that worked. Just go with me on that one. I found one regular zipper, wink.)


In the back, there are two colors coming together. And a faux train on the dress in a thicker zipper.


I think I'm safe. If the rainbow Yetti was safe then I can be in that urban whimsical category.
Here are some GREAT shoes.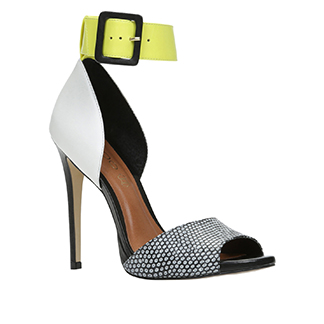 You cannot say we are too matchy.
See you on the runway!
If you are not reading this post in a feed reader or at http://justcraftyenough.com then the site you are reading is illegally publishing copyrighted material. Contact us at jcraftyenough AT gmail DOT COM. All patterns, text and photographs in this post are the original creations & property of the author unless otherwise noted.
© 2005 – 2014 Kathy Lewinski & Susan Cornish