Here's a non-crafty project we've been working on, one that we will help all of you be a little more crafty.


We've created an index of all the patterns and tutorials available on Just Crafty Enough. After four years of this site (and years before that on our own blogs), we have amassed quite a collection. We wanted there to be one place you could access with a list of all of them. You will find a link to it right at the top of the page.
Here's a little bit about how it is laid out. There are five major categories, Christmas Ornaments, Embroidery Projects, Knitting Pattern, Sewing Projects, Projects With Kids and Other Crafts.
We separated Christmas Ornaments from everything else because we have a library of over seventy handmade ornaments. The category itself is divided into sections by the type of craft used to make each ornament, knitting, sewing, etc… All other Christmas projects such as wreaths or other decorations can be found in the other categories.
Both the Knitting and Sewing categories have been divided into sections for what the particular or tutorial makes. So, you'll find sections for hats, mittens, costumes, etc.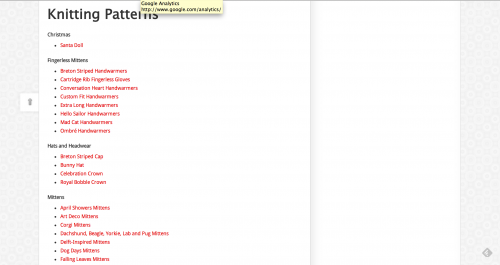 The Other Crafts category is divided into either what the project makes or its theme. There are sections in it for most holidays, but there are also sections for candles, Legos and jewelry.
You can, of course, still look for projects through our search function and by category. We will be updating the index as we publish new projects. Hope you find it useful!
If you are not reading this post in a feed reader or at http://justcraftyenough.com then the site you are reading is illegally publishing copyrighted material. Contact us at jcraftyenough AT gmail DOT COM. All patterns, text and photographs in this post are the original creations & property of the author unless otherwise noted.
© 2005 – 2014 Kathy Lewinski & Susan Cornish