A little while back I posted about the jelly roll that I wish I bought last summer. This year it was time once again for the pilgrimage to Minnesota and a visit to the Red Pine Quilt Shop. I was recounting the story to one of the ladies in the store and she said, "Let me look."
Out she came with MY JELLY ROLL!

Oh my word! "The one that got away" came back to me!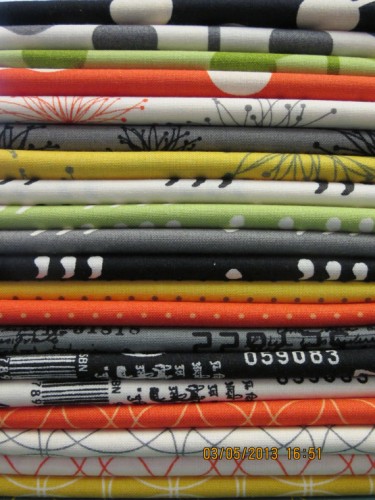 I was so thrilled! Jelly Rolls are not cheap. Especially when you are just adding to your stash, but this quilt and this jelly roll called to me. It called me for a year. So when I saw it this time, I bought it.
In case you are wondering, there are two more at the shop. Call them immediately, and they will send one out to you.
If you are not reading this post in a feed reader or at http://justcraftyenough.com then the site you are reading is illegally publishing copyrighted material. Contact us at jcraftyenough AT gmail DOT COM. All patterns, text and photographs in this post are the original creations & property of the author unless otherwise noted.
© 2005 – 2014 Kathy Lewinski & Susan Cornish