This week it was the "real woman" challenge on Project Runway and this season's real women were Project Runway super fans including Project Project Runway's own Susi. Unfortunately, the dress designed for Susi was this week's loser, so for our challenge we had to create a winning dress for her.
I feel like I have a little advantage in this challenge since Susi is one of my best friends. I was thrilled when she got to be on the show, but I also know she deserved a better dress than what Ken designed for her.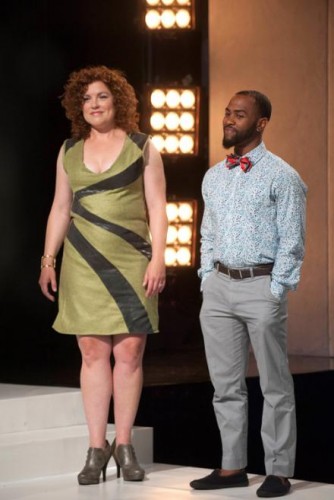 Susi pretty much gave Ken full reign to design anything her wanted from a gown to a day dress. Her only direction (at least from what we saw) was that it camouflaged her midsection. Here's the thing, I know Susi was being a good model and trying to let Ken design what he wanted, it was a competition for him after all. I do remember though when she and I were talking about what if she got on the show, she said that she would want to have a gown designed for her. Something completely not practical, but still a once in a lifetime chance to have a gown designed for you. With that in mind I designed a gown for her.


Like Ken, I went with green because it really does suit Susi's coloring. The green I chose though was a fresh, springy green, a color I often associate with Susi. The fabric is a beautiful silk with lots of texture.
Now, like Susi, I too like to camouflage my midsection. What I have learned is that a sheath dress like the one Ken made is typically not the way to go. In order to hide the tummy you end up with something that is too big everywhere else making you just look bigger. Instead you want construction and fit. You want a design that accentuates your waist and gives you more shape. That is what I did with this gown, a wide waist band slims and brings the eye to the waist then the skirt beneath flairs out to an a-line. For the top, I did a faux wrap. It has sexy cleavage, but allows a bra to be worn with it easily.


The Belk website has been down for two days, so I had to look elsewhere for my accessories. Since it was Susi I wanted them to be high end.


I added some bling with a drop emerald necklace that has yellow and white diamonds. Both yellow and white diamonds glitter in the bracelet as well. I knew I wanted a floral shoe since the dress fabric is solid. I think these silk Manolo Blahnik's (at $665) are just that pop of pattern and color I was looking for.
I think Susi would look amazing in this design and it certainly would have gotten a different reaction from the judges. She rocked the runway even in a losing dress, can you imagine if she had been given something like this to wear down the runway instead?!
If you are not reading this post in a feed reader or at http://justcraftyenough.com then the site you are reading is illegally publishing copyrighted material. Contact us at justcraftyenough AT yahoo DOT COM. All patterns, text and photographs in this post are the original creations & property of the author unless otherwise noted.
© 2005 – 2013 Kathy Lewinski & Susan Cornish