Back in June, Project Runway put out a call Super Fans on Face Book.
I made a video. And submitted it. And then, days later, packed for a vacation with my family to Minnesota. I had trouble picturing how ANYONE could be a bigger super fan, but I still had NO idea how to gauge my chances of actually being chosen. While I was up in the North Country, I got a call. !!!!!!  They were just confirming my interest in being on the show and checking my availability, but they didn't offer me a spot for a few more days.
The night before my trip, they confirmed my itinerary. I would leave Detroit Lakes MN at 4:15 (am) and my younger brother would drive me to Fargo ND. Then I would fly to Chicago and on to New York. I was thrilled beyond belief for the adventure that wait ahead, but also ridiculously scared. My whole extended family was on vacation at a lovely resort.


Who would want to leave THAT?!?
(Just in case Project Runway DID call, I had packed 1 dress that I could wear "in New York City" and a pair of gold sandals as well.) So I shook the sand out of my shoes and my hair, put a few things in a carry on, and went away in the predawn.
I had my itinerary and I was told a driver would meet me, and take me to my hotel. And that was all I knew. !!!


And so a driver DID meet me!!! Here he is pulling my carry-on. (So unnecessary. But I let him!)


This just makes me giggle! (A slight misspelling. But who is going to argue with traveling in style like this?)
My Uncle texted "Have you landed? How are you doing?"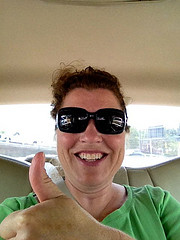 This was my reply. I was SO HOT and SO FAR from where I had been a few hours earlier that morning. And all amped up and ready for ADVENTURE.
We headed into the City.

I found out we were staying at Yotel.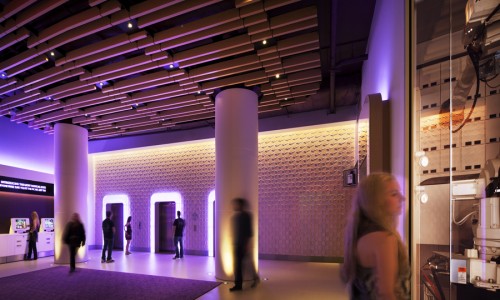 This is the ground level lobby. The hotel is in a great location near Times Square.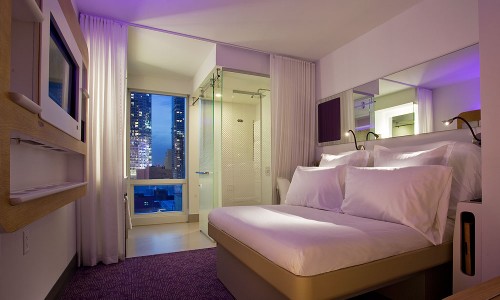 The rooms were designed by airline designers with a Japanese aesthetic. They call them "cabins" and the staff are referred to as "crew".  The Bellmen wear t-shirst that say "ground control to major Tom". This is the room I had. (Before I descended) . The bed was electric, and motored out into the room with the push of a button. While I missed my husband and my kid, when I opened the door to the room, I laughed. There was no room for them!
Tiny room not withstanding, this place was schwank!


This is the view of the roof  gardens from my room!


And the view, complete with a water tank.
I secretly hoped that I would get to my room and then I would find a stiff stationary card letting me know that Heidi would like to meet us for drinks on the "roof deck". That call never did come.
I did talk to one of the production assistants, she met me in my room much later in the day and had me sign contracts and made sure I was okay. (Maybe she was checking my mental balance, just to make sure that our videos portrayed the real "us" and that I was not on the edge or ready to cave.)
When the papers were signed, and I learned that Heidi and Tim were not going to have dinner with us, I decided to make the most of a Friday Night in Manhattan. And what better way to do that than to go see a show?
Quick as a wink, I looked up what shows were playing and well reviewed then picked Kinky Boots. Don't let the name fool you. If you have not seen it, I highly recommend the movie.
I ran to the theater and jumped into the cancellations line. They cut us off at 8 pm and said there were no more tickets, even for a single. So I walked along, strategizing about my plan "b". Just past the theater, a scalper stopped me and offered me a $99 ticket for $115. I looked at him and calmly said, "the show has already started," and kept walking. In the end, I got him down to $60 (!) and went in. What a THRILL. The show was beyond amazing.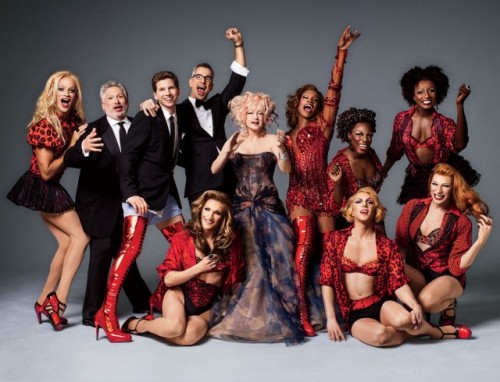 Cindy Lauper wrote the score. The critics are asking why she waited so long. (And please note, I believe Cindy is the only woman in the picture above. !!! )
The costumes were glorious and Billy Porter could blow the roof off the theater without a mike. There was SO much talent on the stage it was a pleasure to be there. As I exited the theater, and tried to figure out which way to go, I passed by the stage door. People were gathering to see the actors out and get their autographs. So I joined the crowd and waited. I have never done that before.  It was such fun to see everyone and say "thank you" in person. It was such a neat way to make the show more personal.
And with THAT, I walked back to the hotel, and slept soundly.
For Saturday, it turned out that I had a whole day to myself. I learned later that they were bringing people in early so that we were all "ready". The weather did not cooperate, there were amazing storms around the country, and some of the ladies had odyssey travel stories.
I decided to make a pilgrimage to Purl Soho. I have the utmost respect for Joelle Hoverson, her shop, her books, and her crafty blog Purl Bee. I wanted to take the Subway. There is something so appealing about the old architecture and the old tile of the tunnels. I turned a blind eye to the "corners" and the dirt and just soaked in the "local" scene.


"Spring Street was one of the original stations of the first subway in Manhattan, opening on October 27, 1904."
You can feel that when you stand in the station.
A short walk later I was there.

The wall of yarn, and then fabric is beautiful, and well edited.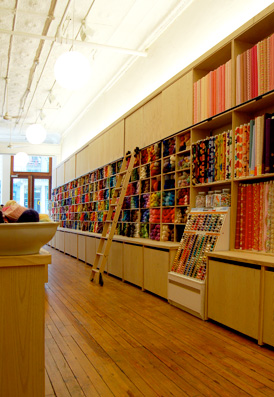 This is a wall in the store. all Liberty prints, displayed in embroidery hoops. I have seen this on the blog before. And on pinterest. But in person it does not fail to impress!
I loved walking around Soho. Its such a vibrant neighborhood in the city.
I was getting hungry, and decided to visit the age old institution Katz Deli. I made my way there hot and tired and hungry. I am going to go out on a limb, and with all due respect to Katz, it was not for me. It was loud, and chaotic. They had guys stationed by the door hollering at everyone to "MOVE IN" and "GET IN LINE".  It was not what I was picturing for my "NY Day" so I left and went in search of something else. And I found Mocondo. As I was in front, checking out the menu, there were 4 girls sitting in the front table, I swear they could have been Carrie, Miranda, Samantha, and Charlotte. I walked in and got a seat at the bar. It was perfect.


This thing of beauty is the Benedict, served with salmon on a yellow corn arepa. It was as good as it looks. I was so satisfied that I had a wonderful (and hip) meal in the city!
From there, the rest of the day was a little bit more administrative. The producers let me know they wanted to see the dolls! And, remember, my family was all in MN, and I had flown straight from there. So I asked friends in San Francisco go to our house, collect all the barbies they could find, and FedEx them to NY. !! The Dolls actually got stuck in the storm! The "overnight" took two days.  I got news that they had finally arrived, I needed to check their condition, and get them all runway ready!
I also spent time in Macy's trying on every piece of shapewear ever manufactured. It was a humbling experience.
Here was Lesson #2. "I am the size I am today." I am not at "goal weight". But I am on this amazing adventure and I fully refuse to diminish this experience with any kind of "I am not quite where I want to be physically" talk in my head.
"Here I am, in NY City, and I am going to be on this show! I was never hired as a model. That is not why I am here. I am here because of my enthusiasm and my excellent hobby. So let's go show THAT off!"
Exhausted from my full day of NY, I went to the hotel and had dinner there.


I was out on the roof deck, drinking sparkling water. And trying to chill out for what was about to come.
Our "Call time" was 6 am in the lobby on Sunday.
And when I headed back up to my room, I was given my "swag bag". A driver met me at the airport! And now I had a swag bag! And we hadn't even really gotten started! Pinch me now.
I didn't get much sleep. : )
If you are not reading this post in a feed reader or at http://justcraftyenough.com then the site you are reading is illegally publishing copyrighted material. Contact us at justcraftyenough AT yahoo DOT COM. All patterns, text and photographs in this post are the original creations & property of the author unless otherwise noted.
© 2005 – 2013 Kathy Lewinski & Susan Cornish