This week each designer was "given" a set of diamond jewelry and asked to create an outfit to go with it. For Project Project Runway we were allowed to chose our own jewelry. I chose the beautiful Folie des Prés diamond necklace with matching earrings and ring from Van Cleef and Arpels.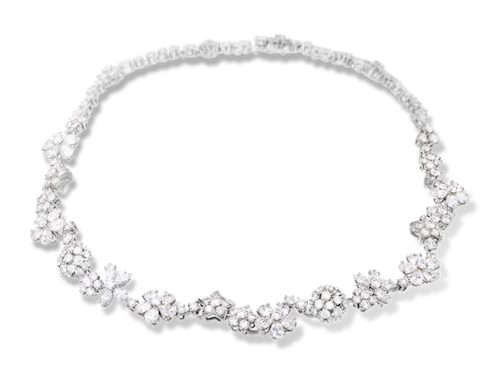 The flower design made me think of garden parties (you know fancy ones, like the Queen throws), so my first thought was a bright fresh floral fabric. I was originally going to go with a cotton and make it upscale with the design. Let me just sat patterns in the right scale for my model are not that easy to find, especially ones that spoke to me as far as color. Then I found a beautiful silk in a watercolor floral of hot pink, grays, white and black. It wasn't the colors or weight of fabric I originally imagined, but it was too pretty to pass up so a adjusted my design.


I wanted the skirt to fit at the waist and then open up into lush volume. I achieved that look with two large straight pleats at either side of the front. I feel like it still shows off her shape. The skirt has so much drama, I kept the top very sleek and simple. Off the shoulder cap sleeves add some sexiness and reveal the neckline to show off the short necklace. It isn't the sweet garden party dress I originally envisioned, but I feel like it is spot-on with the jewelry.


I think Nina would think the shape would photograph well, Heidi would like the sleek sexy top and Zac would love the pop of color. I think I'm safely in this week, what do you guys think?
If you are not reading this post in a feed reader or at http://justcraftyenough.com then the site you are reading is illegally publishing copyrighted material. Contact us at justcraftyenough AT yahoo DOT COM. All patterns, text and photographs in this post are the original creations & property of the author unless otherwise noted.
© 2005 – 2013 Kathy Lewinski & Susan Cornish