Just one more week and we move into our new loft! We've been spending most of the time packing up the old house, but plans are starting to take shape for the new space as well. Our loft has two bedrooms and a small office. Since both Matt and I work at home and really we only have guests two or three times a year we decided to use the second bedroom as Matt's office with guest room capabilities. Here is the room when we bought the loft.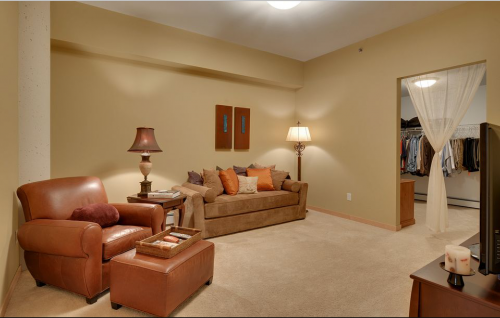 Just your basic beige room. With no windows and all the beige it felt very yellow to me. We want to lighten it up and make it a fresher work space. We need it to be used as a guest room, but didn't want a bed sitting in the middle of the office either. We also knew we didn't want a sofa bed, those things are never good for sleeping on. We decided the best solution is a wall bed. Luckily, we have a company nearby called Techline that specialized in custom fitted furniture including wall beds. We visited their studio to pick out finishes and basic design needs. Then they came out to the loft to do measurements and presented us with plans to chose from. Here is our final design.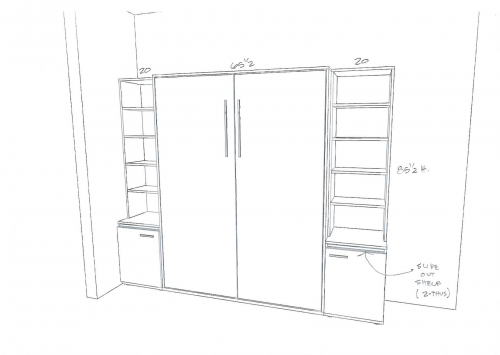 This is the queen-sized wall bed with two cabinets on either side. There are reading lights built into the headboard of the bed and the night stand shelves that slide out of the cabinets on either side.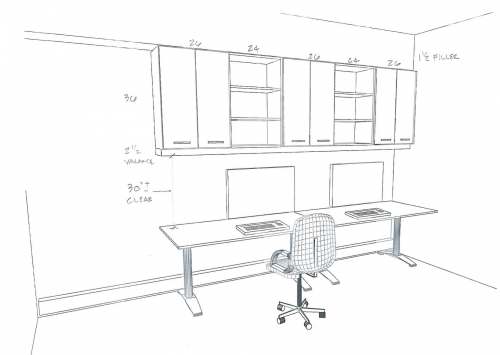 On the opposite wall, Matt has a 10′ Ikea desk (enough space for all his computers and room to work on projects too). Above that he wanted wall cabinets, that were a mix of open and closed storage. Under the cabinets there will we LED task lighting, which is really needed in the space.


The cabinets and wall bed will have dark slate bodies and the doors will be in the light textured finish you see above. It is almost like a wood grain and will the large amount of cabinetry a brighter modern look. The door fronts are made by a local company called Northern Contours. They really had some interesting looks for us to chose from that didn't add much to the price at all. The carpet is a medium gray with flecks of beige in it which plays very nicely with all the maple trim and doors. Finally, for the paint color we went with Benjamin Moore Barren Plain. It was really hard to find the perfect gray. This one was in the taupes and has just enough brown in it to make it a warm gray instead of cold. (I like it so much it is going to show up through much of the rest of the loft.)
Right now this might all look a little monochrome, but add the red love seat we already own, along with artwork with lots of red and other primary colors in it, and this will should be a lovely workspace and guest room. The cabinetry should all be in around Labor Day and I'll be able to show you all the finished room.
Ok, back to packing a few more boxes….
If you are not reading this post in a feed reader or at http://justcraftyenough.com then the site you are reading is illegally publishing copyrighted material. Contact us at justcraftyenough AT yahoo DOT COM. All patterns, text and photographs in this post are the original creations & property of the author unless otherwise noted.
© 2005 – 2013 Kathy Lewinski & Susan Cornish