Welcome to season 12 of Project Runway and a new season of Project Project Runway! If you want to join in the fun this season get all the details here. Let's jump right in…
Challenge – Million Dollar Runway
Create a look to go with and inspired by a set of diamond jewelry.  You can pick jewelry from anywhere online, here are a few ideas, Blue Nile, Tiffany & Co, Van Cleef & Arpels. Your jewelry does not need to be just diamonds, it can include other jewels. Please show us the jewelry you pick.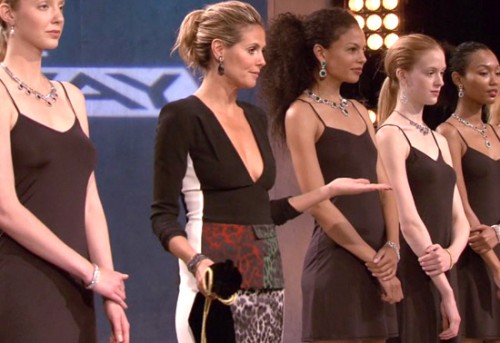 Time Limit – 11 hours
Accessories – Choose your other accessories from the Belk accessory wall.
Runway Day – Runway day is Thursday, August 1st.
Just a reminder only in-progress photos should be posted to the Flickr group before Runway Day. Save the big reveal for next Thursday. Please tag your photos with PPR2 and ProjectProjectRunway.
So, did any of you watch last night's episode? I fear they are keeping people for drama more than for their design skills at this point. I don't think the losing dress was the worst just because it was boring. What do you think?
If you are not reading this post in a feed reader or at http://justcraftyenough.com then the site you are reading is illegally publishing copyrighted material. Contact us at justcraftyenough AT yahoo DOT COM. All patterns, text and photographs in this post are the original creations & property of the author unless otherwise noted.
© 2005 – 2013 Kathy Lewinski & Susan Cornish