We live in one of the most beautiful cities in the world. Recently, the weather was beautiful, we were with a great friend and we were overtaken by vacation mentality. We had a glorious day exploring the city.
We started at the Alemeny Flea Market. (Not to be confused with the Alameda Flea Market.) (I believe that those flea markets could be a whole post of its own. Delicious.)


Chess lesson.
A quick stop for jackets and fleeces and we were off to Fisherman's Wharf.


It was a perfect weather day, warm (ish) but very windy.


This is Pier 39. The seals are in the middle ground and Alcatraz in the background. For visitors from out of town, Fisherman's wharf is not on the very top of my list of recommendations. It is overrun by t-shirt shops, "camera" shops, and chain restaurants. It is a thriving part of the city, but I just want it to thrive for the right reasons not because there are people who are dropped here by the guide books. I was looking for the beauty in the place, looking past the Hard Rock Cafe.


On the end of the pier is a TWO story "megg-ery round".


The carousel is old world beautiful. It is one of the best in the city.


And it goes FAST. So I was really glad that we had a friend along that would jump on this ride instead of making me go on the "salad spinner".
We were all hungry, so for dinner we chose an institution: the #9 Fisherman's Grotto.


This is an incredible scale model of the place you are standing in, there for your viewing pleasure on the Landing on the way upstairs.
We said we wanted to go somewhere with "themed carpeting".


I am quite sure that this fits the bill! This place was established in 1939. But most of the decorating was done by "team Draper". You can just picture Don in the cocktail lounge.


Florentine room? Right this way!
Let me point out the old Fisherman


"Darlin' that is called a phone booth. Back when a phone was the size of a bread box and you could not play games on it."


We got a table by the window.
There are no women on the wait staff, the bus staff or in the hostess roll. So, there are no women visible on staff. This seemed not so odd for such a theme-tastic place. The waiters were all 50 and up and the rest of the men are likely all related to them. Again, rather than being weird,  this adds to the charm. We dined on crab louis, and fruit d'mare. They were happy to serve a bowl of pasta with a side of Parmesan to the little blonde. Kind of them.
We had a tour around the restaurant after dinner. Then we went outside where there was still plenty of daylight to burn. We headed out down the row of seafood vendors.


Crab Station


Guardino's

"Crab packed for traveling"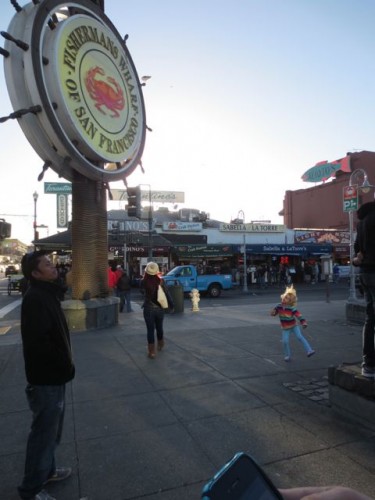 There are vestiges of "days gone by" everywhere. Like this BIG HUGE sign that is not leading us to any one business in particular. We stopped and did a dance under it.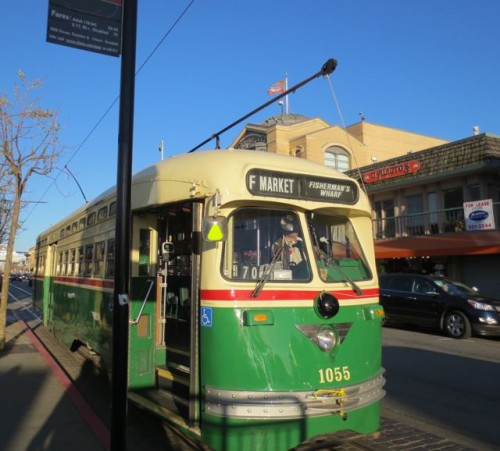 Running by us are the old trolly cars. (not the Cable Cars, or the Bart trains, but old vintage Trolly Cars.) Here is F car #1055, built in 1948 in Philadelphia.
And this one is from Milan, Italy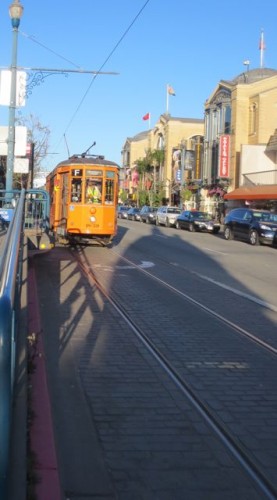 The number 1825 was built in 1928, and still runs today. This car is wooden and so wonderful inside. It is loud to ride in because it creeks and groans along, but it is peaceful, historic, and so much fun to ride.
From here we headed up the street to Ghiradelli. The large brick building used to house the actual factory where the chocolate was made.


Now, it houses a retail complex with no fewer than 3 separate Ghiradelli chocolate shops in a one block radius.
We finished the night with hot fudge sundaes from the ice cream shop. I am an ice cream connoisseur and this sundae was exceptional!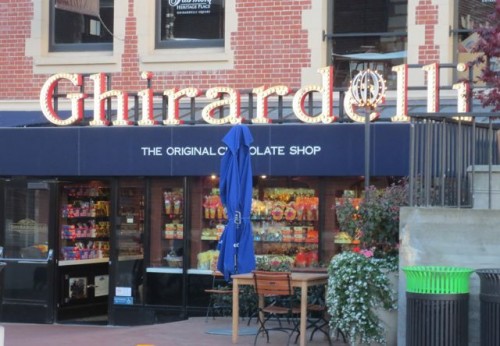 Then, one of us ran laps around the mermaid fountain.

Then we headed home, wind blown, well fed and full of love for our fair city.
If you are not reading this post in a feed reader or at http://justcraftyenough.com then the site you are reading is illegally publishing copyrighted material. Contact us at justcraftyenough AT yahoo DOT COM. All patterns, text and photographs in this post are the original creations & property of the author unless otherwise noted.
© 2005 – 2013 Kathy Lewinski & Susan Cornish