Sunday was the San Francisco Center for the Book Roadworks Steamroller Print Festival.

I admitted to my friend "I don't really understand what that means." And she texted back "they use a steam roller to make large format prints" Wow, I wanted to see that. The street was blocked off. There was plenty of room for running. There were vendors selling neat prints and print related art. And then there was the main event.


They set up the huge inked block, and laid the paper on the top. Then they added loads of blankets.


The steamroller lined up and started slowly over the whole sandwich.


It went over, and backed up.


The prints were on display at the San Francisco Center for the Book, which was around the corner.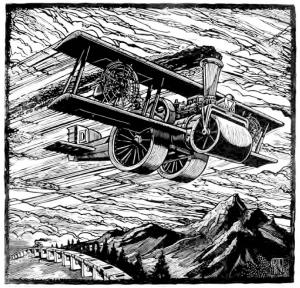 (Ric Olson Print)
There were lovely old drawers filled with type. I love the rhythm of the drawers…the old wood.


And the names on the fonts


It was a really inspiring event. We had glorious weather, rock star parking, and saw some neat art being made. Quite perfect.
If you are not reading this post in a feed reader or at http://justcraftyenough.com then the site you are reading is illegally publishing copyrighted material. Contact us at justcraftyenough AT yahoo DOT COM. All patterns, text and photographs in this post are the original creations & property of the author unless otherwise noted.
© 2005 – 2012 Kathy Lewinski & Susan Cornish