If you've followed this site for a while you know I have a problem keeping my craft room neat and organized, I even made fixing this one of my crafty resolutions for 2013. Ok, I'm going to embarrass myself now and give you all a peek into why this has become such an issue.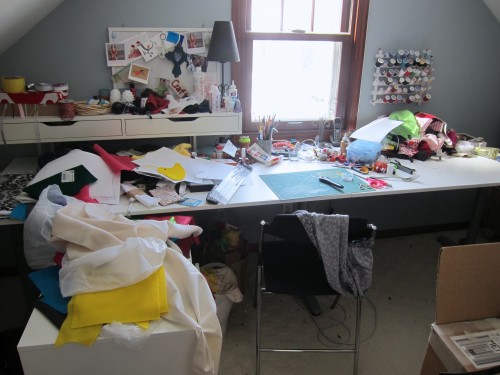 My craft room is a little room under the eaves in our attic and the only work space I have is this long table. The problem is the table is covered with all the bits and bobs from past projects as well as glue, scissors and other supplies. It's gotten to the point where I'm not doing as many projects as I'd like because finding the space and tools to do them has become a pain.
When Avery and BlogHer offered me the opportunity to try out the Martha Stewart Home Office with Avery Wall Manager it was just the inspiration I needed to get my craft room together. I started off by cleaning everything off my work space. I threw away everything that was too small to use in another project or that I just didn't need anymore. (You crafters know how hard it is to throw any scrap away because it might come in handy later, but I forced myself to be brutal.) Then I hung the Wall Manager above my cleaned off table.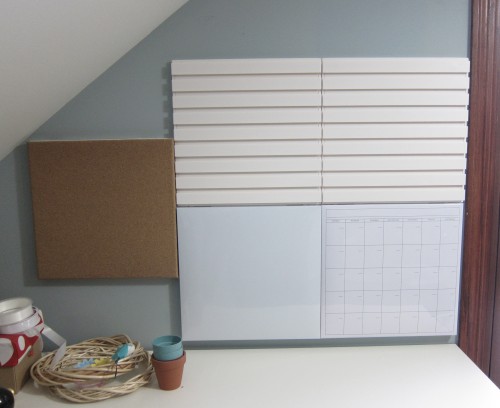 Because my craft room is under the eaves, the wall space is a little odd with slanted sides. The nice thing about this Wall Manager organization system is it comes in 12″ x 12″ pieces which can be moved around to use the space to the best advantage. For my slanted wall, I was able to create a sort of stair step effect and use five elements (actually, I even have room for one more). With a large square single piece, like a bulletin board, I've been really restricted in size because of that slant. The pieces were very easy to hang thanks to their wall mounts. The wall mounts all have a built in bubble level to help get them straight. Wall safe adhesive on the back of the mounts holds them in place while you nail them in, no holding with one hand while trying to nail with the other. Guidelines at the corners help line up multiple wall mounts.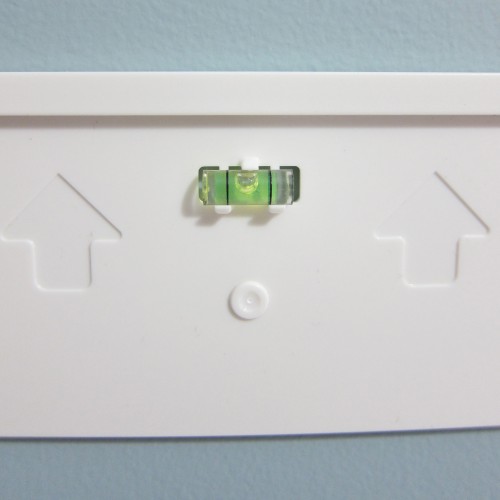 The boards all use the same wall mount, so you can play with which piece goes where after the mounts are hung. This is important if you are like me and aren't sure what you want where at first. Once the Wall Manager was hung, it was time for the fun of filling it up. I used a bulletin board, dry erase magnetic board, dry erase calendar and two accessory boards.

There are lots of pieces available to use on the accessory boards from drawers to clips to caddies to shelves. I love how stable they are and that they could support things like all my glue bottles easily. This is such a great way to get all this stuff off my work surface. I think I may need to get one or two more of the accessory boards. I can see getting a whole board full of drawers just to store beads… oh the ideas.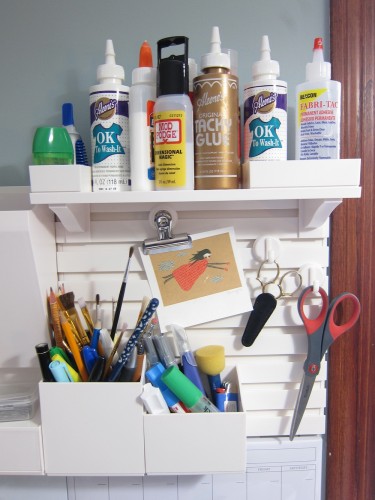 And here is the final result of my big clean up.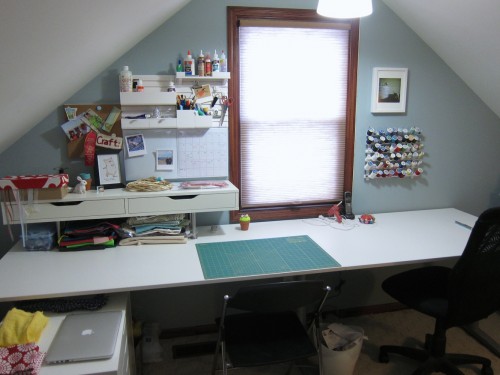 What a breath of fresh air that is! By getting all this stuff off the table it gives me much more room to lay out fabric and work on large projects. I feel like everything has a place now and I'm inspired to keep it that way. The white looks great in my office and keeps it feeling open. (The Wall Manager also comes in black which I think might be a great solution for my husband's office to display all his Lego Minifigs.)
**5/1/13 The contest is now closed.
The Martha Stewart Home Office with Avery Wall Manager is available exclusively at Staples and Staples.com, and we have a $100 Staples gift certificate to give away to help you get started getting your spaces organized. To be entered for a chance to win, tell us how and where would you use the Martha Stewart Home Office with Avery Wall Manager products?
(Don't worry if your comment doesn't show up right away, it is just waiting for moderation.)
Rules: No duplicate comments. You may receive (2) total entries by selecting from the following entry methods: a) Leave a comment telling us how and where would you use the Martha Stewart Home Office with Avery Wall Manager products on this post b) Tweet (public message) about this promotion; including exactly the following unique term in your tweet message: "#SweepstakesEntry"; and leave the URL to that tweet in a comment on this post c) Blog about this promotion, including a disclosure that you are receiving a sweepstakes entry in exchange for writing the blog post, and leave the URL to that post in a comment on this post d) For those with no Twitter or blog, read the official rules to learn about an alternate form of entry. This giveaway is open to US Residents age 18 or older. Winners will be selected via random draw, and will be notified by e-mail. You have 72 hours to get back to me, otherwise a new winner will be selected. The Official Rules are available here. This sweepstakes runs from 4/1/13-4/30/13. Be sure to visit the Avery brand page on BlogHer.com where you can read other bloggers' reviews and find more chances to win!
***Disclaimer: This is a sponsored post. I was provided with the Wall Manager, accessories, gift certificate to give away and payment for this post. I was not told what to write and all the views are my own.
If you are not reading this post in a feed reader or at http://justcraftyenough.com then the site you are reading is illegally publishing copyrighted material. Contact us at justcraftyenough AT yahoo DOT COM. All patterns, text and photographs in this post are the original creations & property of the author unless otherwise noted.
© 2005 – 2013 Kathy Lewinski & Susan Cornish