My work space has become ridiculous.
One of my New Year's Crafty resolutions was to clean/clear it out.

Here is a before picture. This is a shot of me, looking for something. It is that bad. Really.
I have high hopes that at the end of the cleaning and organizing, that I will have a great functioning space.
And while I am working, let me show you some of the studio spaces of the MASTERS.
Here is Anna Maria Horner's space.

Heather Baily works here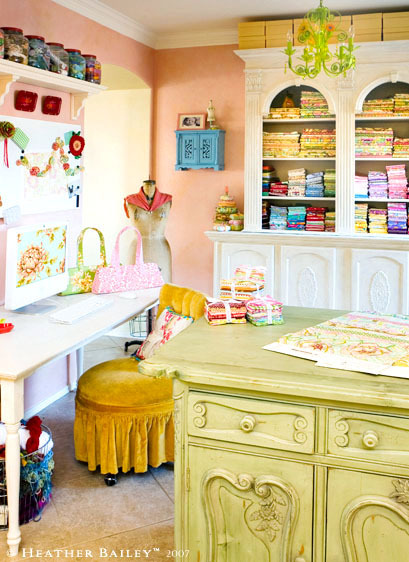 It is clear that I need to par down.
I'll keep you posted.
What about you? What state is your craft space in, as we head into the new year?
If you are not reading this post in a feed reader or at http://justcraftyenough.com then the site you are reading is illegally publishing copyrighted material. Contact us at justcraftyenough AT yahoo DOT COM. All patterns, text and photographs in this post are the original creations & property of the author unless otherwise noted.
© 2005 – 2013 Kathy Lewinski & Susan Cornish