My Sister-in-Law sent a request for a craft. Be still my heart. Is there anything better than a commission gift? That is the best kind of crafting! (You know the craft will be appreciated, and not just "tolerated". )
She asked for an over the door display for Christmas cards. The one she sent me as an example was from Country Living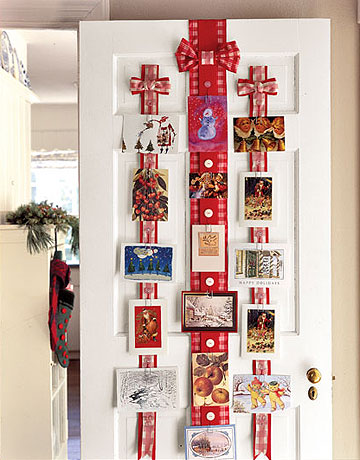 They live in a ranch house in San Jose, so I edited the design a bit.
Ribbon Christmas Card Display
Supplies:


(I made 3 strips. Each is made from two ribbons, each section of ribbon starts out 6 feet long. For my card holders, I combined ribbons sold by the yard, with ribbons sold by the roll.)
2 rolls of ribbon (this made 2 strips)
2 six foot lengths of ribbon (this made 1 strip)
Extra ribbon to trim the top and bottom (Optional)
1 package of ornate clips (these are ornament hooks, but these paper clips would work too)
Thread to match
Supply note: This whole project rests on the ribbons. One needs to be wider and one needs to be narrower so it can layer over the other. This could be a dollar store craft or this could be an over-the-top vintage ribbon extravaganza.
Take the two ribbons and fold them over at the top to create a nice hem.
At the bottom, take the accent ribbon and give it a nice cut finish. Then hem the bottom of the main ribbon.
To attach the clips, you will make a little loop. You could do this with thread by hand or with a sewing machine.
Set your machine to zig zag stitch. And make the stitch length VERY long. Mark the center of the ribbon. And make a 1/4 inch stitch, then stop. Make sure both ribbons are flat, and lined up, so that they are even and not buckling.


Trim the threads close.
I used a ruler, and marked 5 inches down and made the next zig-zag loop.
When I was done, I pushed all the curly clips through.
One of the main design features of the inspiration ribbons was a button between each card. But that feature limits the number of cards that can be displayed. Five inches will represent the smallest card. The picture cards are sometimes 8 inches long. That would ride right over one clip and you would just use the next one.
Here is how the red ribbon looks


On the top, I sewed some loopy bows (by hand) and then tacked those on.


The last step is to figure out where these are going to live and make a mechanism to attach them.
My sister in law was going to hang them on some "shutter" style doors between her kitchen and family room. I made thread loops on the back, and gave her the strong "removable" hooks. Over the door hangers would work well also. (shown below on the back of a door.)


And, just in time for the flood of cards that is coming. We get our first card on Thanksgiving weekend. So here they come.
If you are not reading this post in a feed reader or at http://justcraftyenough.com then the site you are reading is illegally publishing copyrighted material. Contact us at justcraftyenough AT yahoo DOT COM. All patterns, text and photographs in this post are the original creations & property of the author unless otherwise noted.
© 2005 – 2012 Kathy Lewinski & Susan Cornish