I have had the great good fortune of doing a LOT of travel in my time. (Long before I was married and had my little angel.) On a trip to France, one thing that I missed in my hotel was a wash cloth. Curiously, they did not provide them. So I went off to the Monoprix to search for one. I didn't find a plain-jane washcloth, but I found was a little pocket, and I have it to this day!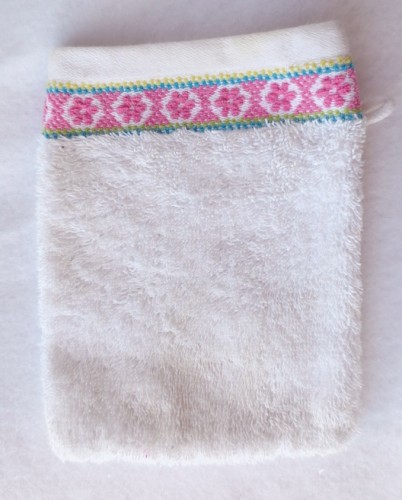 I have always thought that it was a neat idea, and now, I have made some of my own.  Here they are.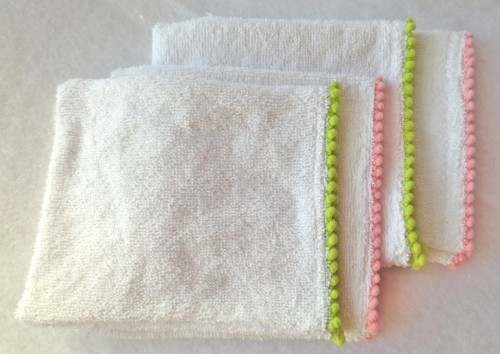 Supplies:
terry cloth (I got about 14 inches, and washed it was 13)
trim (I got a yard of each, and I have a little left over)
thread
Scissors
sewing machine

I found this mini pom pom trim, and it looked like it would work well.
The first step is to wash the terry cloth. Just to make it soft and absorbent.
Cut the terry cloth into rectangles (The size is not critically important. But mine are 7×7 for reference.I cut them in a 7×13 strip.)
Sew one side closed. I used .5 inch seam allowances for this. I sewed, and then I zig zagged around the rough edges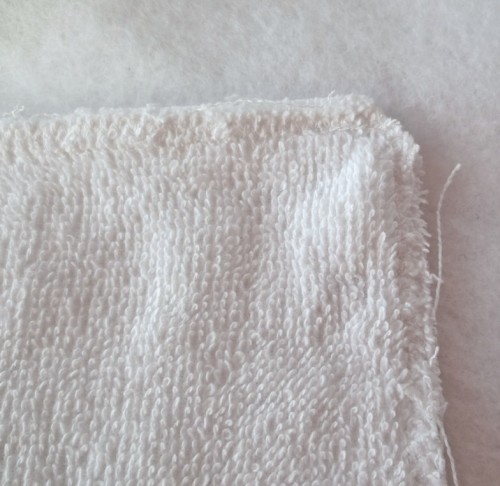 Hem the bottom edge.
Add the trim to the bottom edge. Take care in this step, because if the trim goes all the way around the bottom outside edge (as mine does), the join will show, so it needs to look nice.
Turn the pocket inside out and sew the third side closed.
Trim the corners
Turn the pocket right-side-out and you are done!
I think these would be nice with a soap. Or as shower gifts. They are a quick, easy, inexpensive little project, and I had a lot of fun with them. I hope you will too!
Stay clean! And happy crafting!
If you are not reading this post in a feed reader or at http://justcraftyenough.com then the site you are reading is illegally publishing copyrighted material. Contact us at justcraftyenough AT yahoo DOT COM. All patterns, text and photographs in this post are the original creations & property of the author unless otherwise noted.
© 2005 – 2012 Kathy Lewinski & Susan Cornish