For this week's Iron Craft challenge, I made fabric gift wrapping.


Here is how I did it:
Supplies:
Fabric (1 yard works well for 1 big and two smaller bags. But anything over 1/2 yard will work)
Coordinating Thread
Trim : pom poms, rick rack, braid, or anything else
Ribbon (cheaper to find it on the spool in the store I was in.)
Tools:
Sewing machine
Fabric scissors
I bought 1 yard of fabric. I folded the piece, selvedge edges together, and cut the piece in half across the middle (perpendicular to the selvedge). Then I cut one of the two pieces in half again on the fold. So I had enough fabric to make three bags, 1 big and 2 smaller. You could just as easily cut the fabric once, and just do two bigger bags.
Iron down a hem (doubled over to hide the edge) at both of the short sides. These should be the selvedge edges.  I also pressed and hemmed the edges of the flap fabric. Then, fold the bags in half, right sides together, and sew the sides closed. These folds should be just about in thirds, one third is the front, one third is the back, and one third is the flap. (If you would like to make the bottom gusset deep, then the flap should be big enough to cover over the opening and be tied down under the bow. )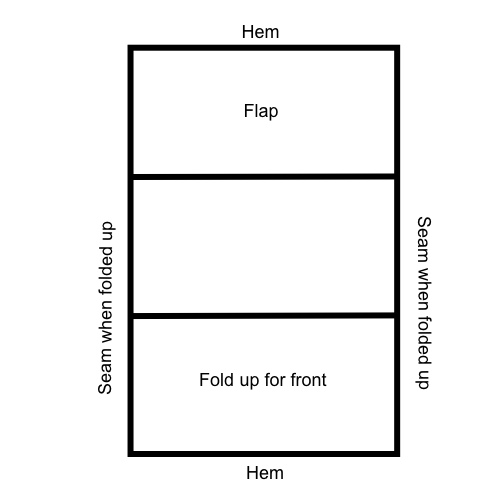 Next, you are going to make the bottom flat like a paper grocery bag. You do this by making gussets. See our Pillowcase Tote tutorial for pictures on how to do this. For this bag the fold at the bottom of the bag will be the center line of your triangles.
Then the embellishing…
To make sure the ribbon does not get lost, I sewed the ribbon to the bag in the center of the back.


I did sew the ribbon so that is was not equal on both sides. I left it a little longer on one side than the other so that the bow could be tied more evenly. At the end I carefully sewed on some little pom pom edging.


Now, truth be told, the embellishing could go on and on, couldn't it? Buttons, ric-rack, glitter trim…they would all be neat to try. I would also like to put some initials on some of the bags, and then kids will know that the bags are for them.
If you try to make some, let us know, and post them to our Flickr Group.
Merry Christmas. Happy Holidays.
If you are not reading this post in a feed reader or at http://justcraftyenough.com then the site you are reading is illegally publishing copyrighted material. Contact us at justcraftyenough AT yahoo DOT COM. All patterns, text and photographs in this post are the original creations & property of the author unless otherwise noted.
© 2005 – 2011 Kathy Lewinski & Susan Cornish