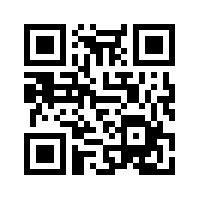 You've seen these QR codes pop up everywhere and I think their graphic quality just screams to be used in crafts. Plus your crafts can contain a secret message since once scanned QR codes can link to a website, video or even just text.
Flickr user 
Kitchen Budapest
 has played a lot with QR codes making things like this velcro QR code t-shirt
I'm not the only one who thinks so as Cornerhouse, Manchester, UK's center for contemporary art, will be doing an exhibit of textile and 3-D versions of QR codes. They're wondering, "How can designers, crafters, makers, tinkerers, artists, coders and interested dabblers use textile QR codes to send viewers to interesting places?" Now, QR-3D is asking all of us crafters to join in and we thought it would be a fun theme for Iron Craft. Who knows one or two of our project might even get chosen to be in the exhibit?!
Flickr user (and Craft editor) Bekathwia has been experimenting with QR codes in knitting.
Create a project this week that incorporates a QR code in it. QR codes work well with knitting, embroidery, cross stitch, paper arts, jewelry so, have fun with it. For the Iron Craft you can use any medium you would like. If you would like to enter it in the QR-3D project they are looking for mainly textiles, read their participation instructions here.
There are lots of site where you can generate your own code and save it to you computer, I've been using
QRStuff.com
 . Your code can say or lead to anywhere you want.  I made two codes for this post. The one on top leads to this blog and the one below here says Now Go Craft. 
Posting date is Wednesday, June 22nd. Please only post in progress photos before that date. Tag photos with IC25 and IronCraft. If you want to enter the QR-3D project make sure to upload to their Flickr group too.
If you are not reading this post in a feed reader or at http://justcraftyenough.com then the site you are reading is illegally publishing copyrighted material. Contact us at justcraftyenough AT yahoo DOT COM. All patterns, text and photographs in this post are the original creations & property of the author unless otherwise noted.
© 2005 – 2011 Kathy Lewinski & Susan Cornish