So yesterday morning, I was watching a local morning talk show and they had some people for the the Twin Cities Oktoberfest on. They had brought along some soft sauerkraut pretzels for the host to try. Well that got me thinking, I had some leftover sauerkraut in the fridge…I like pretzels…. A couple hours later and here we are.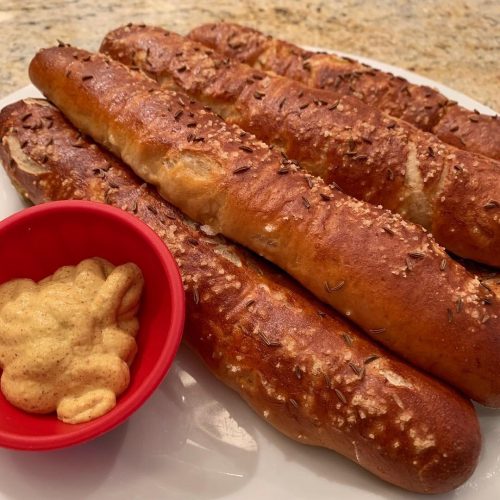 So, I found a basic recipe to work with, added my kraut, and we had these as an afternoon treat. How did the sauerkraut work in the pretzels? These pretzels were really tasty and had a good soft, chewy texture. When dipped in mustard you really only tasted mustard, but on their own the kraut gave then a little bit of a deeper flavor, the slightest bit of tangy and sweetness. You could taste it more when they were room temperature instead of hot. No one is really going to taste them and say, "Hey, there is sauerkraut in these!" We used Gerhard's Applekraut which I loved with brats, but it is on the mellower side, next time, I would chose a zingier kraut.


I used this recipe as my guide. I liked the idea of making sticks instead of shaping a fancy knot. Also since I didn't need twenty-four pretzels for the two of us, I sized it down to just make six. If you want to make these for a crowd, use four times the sauerkraut in the original recipe. You may need to ad more flour as the kraut adds some liquid.
Sauerkraut Pretzel Sticks
Makes 6
Ingredients:
water
2 T dark brown sugar
2 1/8 t instant yeast
1 T olive oil plus more for the rising bowl
1/4 C sauerkraut, drained and chopped
1 1/2 C + 3 T all-purpose flour, plus more for kneading
butter
1/2 C baking soda
1 egg
flake salt
caraway seeds, optional
Supplies:
medium mixing bowl
cling wrap
large baking sheet
parchment paper
large skillet, big enough to hold 6 C water
large flat spatula
paper towels
small bowl
pastry brush
Put 1/2 C warm water and the brown sugar in the medium bowl. Stir to dissolve. Sprinkle the yeast over the top. Let sit for about 5 minutes until starting to foam.
Stir in the oil, kraut and 1 C flour to form a sticky dough. Knead in the remaining flour. Put on a floured surface and knead. If the dough is still sticky add more flour a little at a time until you get a silky dough.
Clean the bowl and lightly oil the inside. Put the dough in the bowl and cover with cling wrap. Let sit until doubled in size, about 45 minutes.
Preheat oven to 450F. Cut a piece of parchment paper to fit inside the baking sheet. Lightly butter the paper.
Punch down the dough and lightly knead it again on a floured surface. Cut into six equal pieces. Roll the pieces into sticks that are about 1/2″ by 9″. Place on the prepared baking sheet spaced apart. Let rise for 25 minutes uncovered. They should be puffy.
Put about 6 cups water in the skillet. Stir in 1/2 C baking soda. Bring to a simmer over high heat. Turn down to medium. Add the risen pretzel sticks and cook for about 30 seconds flipping once. I found I needed to do this in two batches of three. Carefully lift from the water and place on a paper towel. I found a large slotted spatula the easiest thing to do this with.
Move the sticks from the paper towel back onto the prepared baking sheet. Beat the egg with 1 T water. Brush on the sticks and then sprinkle salt and optional caraway seeds.
Bake for 10 minutes or until dark brown and starting to split. Eat hot or at room temp.
Calories: about 137 per stick.