I just wanted to talk a little bit more about working the colorwork on these sweaters. At least, the way I worked the colorwork. I know some of you have worked a lot of colorwork projects, but I thought this would be useful.
One thing you will notice is I work these at a pretty tight gauge, 10 stitches per inch. This is my favorite gauge for colorwork with fingering yarn because it is not so tight it is hard to work, but it seems to be tight enough to hide the color behind well.
For the sweaters where the animal is white and the sweater is dark grey, I just carried the yarn around. Here is the polar bear.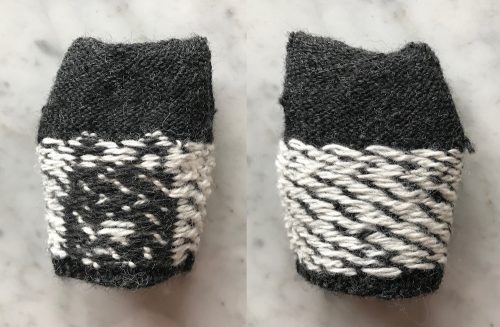 One thing that will help with peek through and puckering is to make sure to vary where you catch your floats. I never catch them in the same place one row after another. I also find that blocking can take out most little puckering. You do want to watch your gauge though as it is easy to work the colorwork section tighter than the plain knitting.
Now with the yarn I used, the grey was dark enough the it changed the color of the white when carried behind on a white sweater with a grey animal. It wasn't about peek through, just that the grey could be seen through the white. I didn't want to have the bottom of the sweater look like a different color than the top. So in this instance I knit the body of the sweater flat, did the colorwork in intarsia, and then joined it together once I was connecting it to the arms. Here is what my penguin sweater looks like from the inside and out at the back.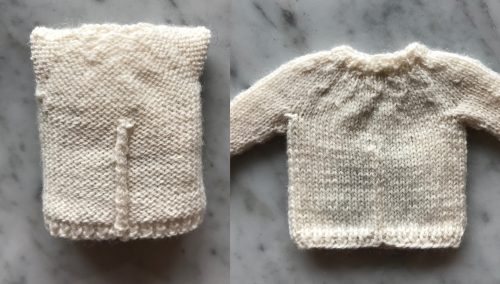 Because I knew I was going to lose a stitch in the seam, I added an extra stitch when I cast on and then knit it together with the stitch before it when joining in the round.
Here is what the inside of the front of the penguin looks like.

If you are good at duplicate stitch that would be another way to add the animal on to the sweater without worrying about carrying the yarn. lavs on in the Ravelry group also tried an interesting technique where she carried the yarn and then cut it and pulled out the floats. See her comment here, it certainly sounds like an option for something no one is going to wear.
If you are not reading this post in a feed reader or at http://justcraftyenough.com then the site you are reading is illegally publishing copyrighted material. Contact us at jcraftyenough AT gmail DOT COM. All patterns, text and photographs in this post are the original creations & property of the author unless otherwise noted.
© 2005 – 2018 Kathy Lewinski