Hello! Yes, I know it has been awhile. Things have been a little crazy in my world this summer, some good and some bad. On the good side, I spent a couple of weeks touring Norway and Scotland which was amazing. On the bad side, we lost my father to cancer. We had a while to prepare, but it left me with not much inspiration to knit other than some mittens for charity.
I did want to give you all something new for this holiday season, so I've circled back to a project I've been working on since last year. If you did my Wee Winter Woolens set last year, you may remember it ended with a polar bear sweater. This year we'll be creating a set of wee sweaters with animals on them, a polar bear, a penguin, a deer, an arctic fox, an owl, and a rabbit. Here is a peek at three of them.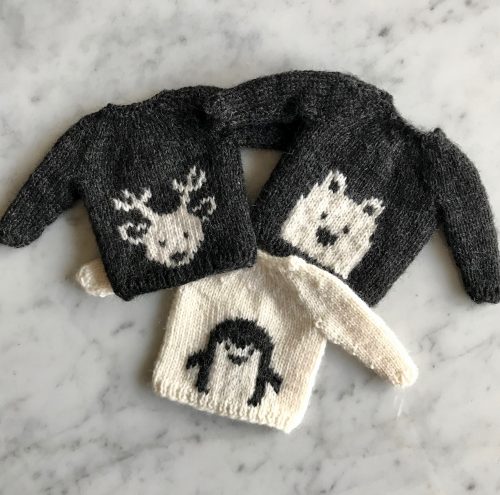 Today you can download the written pattern and first chart here for free. Then for the next five Mondays, I will release a new chart. For those of you who prefer to have the pattern in Ravelry, the whole set is available today as a single pdf for $2.50 here. (Yes, you will get the whole set at once instead of in weekly installments.) People who buy the set on Ravelry will also get a bonus sheep chart (which I think would make a great present for your fiber friends).
Wondering what to do with these wee sweaters? They'd look cute as Christmas ornaments, you can even get little doll-sized hangers. Mount and frame them for a cute piece of wall art. String them together as a garland. You could add more pieces from the Wee Winter Woolens set to make it longer or do some plain or striped sweaters. Display them on a wreath. Use them to top presents.
We are going to start with the polar bear sweater, this is especially for those of you who did not do the Wee Winter Woolens last year. Download Wee Wildllife Sweaters – Written Pattern and Polar Bear Chart
As always feel free to ask questions and share photos in my Ravelry group.
If you are not reading this post in a feed reader or at http://justcraftyenough.com then the site you are reading is illegally publishing copyrighted material. Contact us at jcraftyenough AT gmail DOT COM. All patterns, text and photographs in this post are the original creations & property of the author unless otherwise noted.
© 2005 – 2018 Kathy Lewinski & Susan Cornish