Oh boy, have the last couple of months really taken me away from here & pretty much actually doing much knitting. I did though finally finished my MN Twins Opening Day Sweater!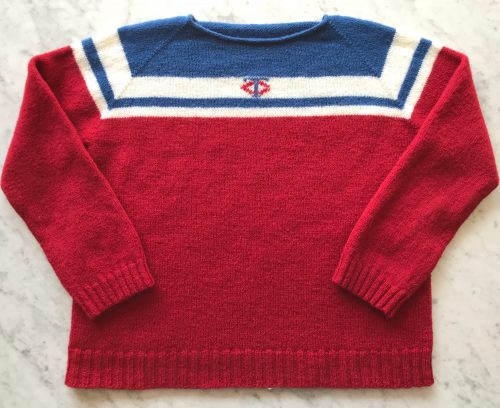 I started this sweater with the hopes for wearing it for the cold spring games here in MN when the temps are in the 40's and 50's, but didn't finish it until just last week and not it is in the 90's. That's ok, we know there will be cold games again in the fall.
Here are the details…
Pattern: Basic Top-Down Raglan Sweater from Ann Budd's The Knitter's Handy Book of Top-Down Sweaters. (I really love this series of books that gives you the basic patterns for lots of different sizes and gauges so you can put your own spin on it.)
Size: 40″
Gauge: 7 stitches and 9 rows per inch (after felting a bit, see the notes, the gauge was 6 stitches and 9 rows per inch)
Yarn: Knit Picks Palette: 4 balls Pimento, 1 ball Delta, 1 ball white
Notes: On the striped top, I did about 40 rows of delta, 13 rows of white, 6 rows of delta and 6 rows of white before switching to red. The Twins logo is duplicate stitched on. The cuffs and hem are worked in k2, p2 ribbing and bound off using Jenny's Surprisingly Stretchy Bind-Off (which I love!). The collar is finished with an i-cord bind-off.
I blocked the sweater in cold water with a really big slug of white vinegar in it. I found this is the best way to keep the red from bleeding into the white.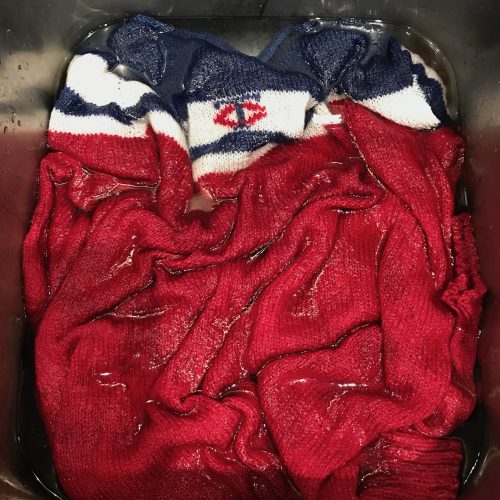 A few people on Instagram were really worried about bleeding when I posted this picture, but my white stayed perfectly white!
I really liked the fit, but after soaking and squeezing out the water, I realized this sweater had grown to be huge! It was going to be completely unwearable on me, so I took a chance and threw it in the dryer on low for about 20 minutes. When I took it out it had felted a little, but was still damped. I blocked it from this point and let it dry flat.


The result was a sweater that fits me just like I wanted, a relaxed, casual fit, but not too oversized. It is not felted so much that it has lost any stitch definition or anything, but the fabric is a little closer, the gauge went down about 1 stitch per inch.
I know I did ok, when my husband says, "That is a really good looking sweater."
If you are not reading this post in a feed reader or at http://justcraftyenough.com then the site you are reading is illegally publishing copyrighted material. Contact us at jcraftyenough AT gmail DOT COM. All patterns, text and photographs in this post are the original creations & property of the author unless otherwise noted.
© 2005 – 2018 Kathy Lewinski & Susan Cornish