Here we are in the final week of our mitten KAL for 2018. Our mittens are pretty much done except for the thumbs.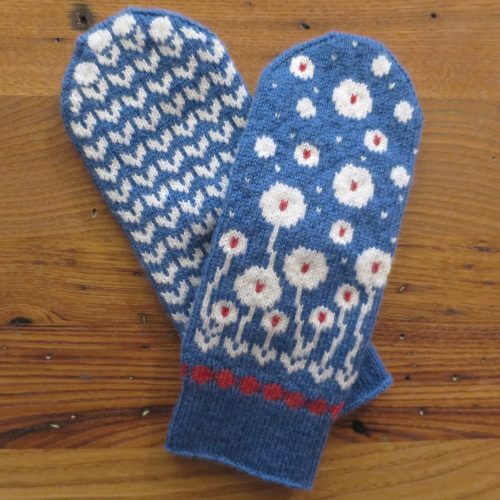 This week is all about doing the tops of the thumbs and any other finishing. Make sure you are following the instructions and chart for the type of thumb you are knitting, peasant or side-gore. Pay special notice if you are doing a peasant thumb, some of the sizes have different instructions for the right and left hand to get the colorwork pattern to match up correctly.
Choose your own adventure:
While I have only charted the thumbs for one length in each size, I do give tips on where to start the decreases and change the colorwork for a thumb that is 1/2″ shorter.
If you are working in just two colors, continue as you have. If you are working a peasant thumb and did the flowers on the top of the palm in your CC2, you might want to do the ones on the thumb the same.
Download the clue here or if you have purchased the pattern on Ravelry look for an update in your library.
Bloomin' Happy Mittens 7″ Clue 4
Bloomin' Happy Mittens 7.5″ Clue 4
Bloomin' Happy Mittens 8″ Clue 4
If you are not reading this post in a feed reader or at http://justcraftyenough.com then the site you are reading is illegally publishing copyrighted material. Contact us at jcraftyenough AT gmail DOT COM. All patterns, text and photographs in this post are the original creations & property of the author unless otherwise noted.
© 2005 – 2018 Kathy Lewinski & Susan Cornish