Let's knit up another wee sweater. This sweater is inspired by cosy, fair isle ski sweaters.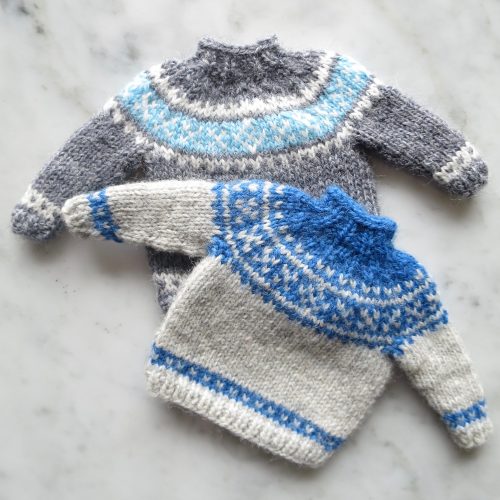 This is knit like the other two sweaters in the set, but has a little more colorwork. The pattern has instructions and charts for doing this sweater in two colors or three. (Though knowing the creativity of all of you, I betting we'll see this down up all different ways!)
Download the Wee Ski Sweater Pattern or if you have purchased the pattern on Ravelry look for an update.
This KAL has been so much fun, that I will be adding one more pattern to it which will be up in two weeks!
If you are not reading this post in a feed reader or at http://justcraftyenough.com then the site you are reading is illegally publishing copyrighted material. Contact us at jcraftyenough AT gmail DOT COM. All patterns, text and photographs in this post are the original creations & property of the author unless otherwise noted.
© 2005 – 2017 Kathy Lewinski & Susan Cornish