Ok, we are back on schedule and that means it is time for your next Wee Winter Woolens pattern. We are adding another stocking this time. The stocking has a little fair isle pattern featuring trees and hearts. It is knit just like the last one, so you should all know the afterthought heel technique.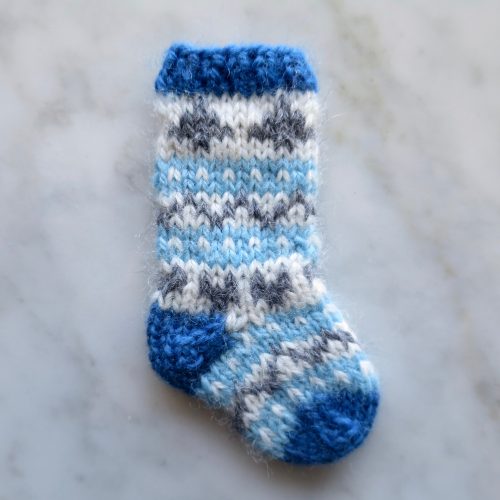 I kept it to just a few colors, but you can really jazz it up with as many as you want. If you are using repeating colors like I did, don't bother cutting them and leaving lots of ends, just pull the color up from below when you need it. Just be careful not to pull it too tightly.
Download the Wee Fair Isle Stocking Pattern or if you have purchased the pattern on Ravelry look for an update.
If you are not reading this post in a feed reader or at http://justcraftyenough.com then the site you are reading is illegally publishing copyrighted material. Contact us at jcraftyenough AT gmail DOT COM. All patterns, text and photographs in this post are the original creations & property of the author unless otherwise noted.
© 2005 – 2017 Kathy Lewinski & Susan Cornish