Look at these cute wee sweaters from the Wee Winter Woolens KAL.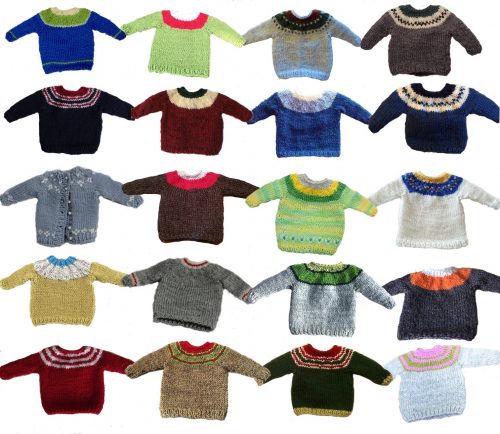 I love to see the different spins everyone put on the basic sweater. One is even a steeked cardigan! Just too cute.
If you are at the Minnesota State Fair tomorrow stop by the Creative Arts building and see my version of the Wee Winter Woolens at the Minnesota Knitters' Guild booth. Also don't forget to visit the Great MN Knit Together on the Grandstand ramp though the whole Fair.
If you are not reading this post in a feed reader or at http://justcraftyenough.com then the site you are reading is illegally publishing copyrighted material. Contact us at jcraftyenough AT gmail DOT COM. All patterns, text and photographs in this post are the original creations & property of the author unless otherwise noted.
© 2005 – 2017 Kathy Lewinski & Susan Cornish