I think for the first year in a long time I might not be entering anything in the MN State Fair. Not that I am not knitting for the fair, I am knitting my little hands off because as I mentioned before this year the Fair is the Great MN Knit Together. The Fair has asked various fiber guilds and groups to yarnbomb topiaries they weren't using to grow things on anymore. I am coordinating the horse that the MN Knitters' Guild is covering.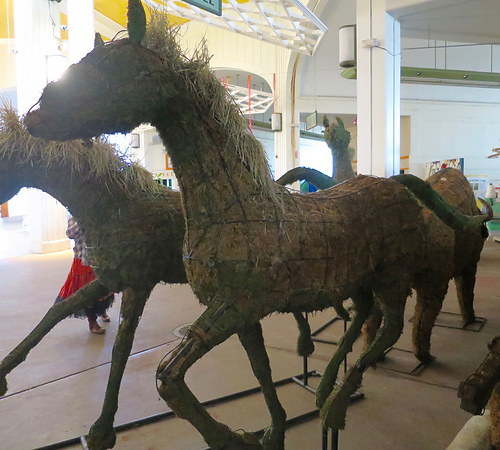 This is our life-sized horse. Do you know how much knitting it takes to cover a life-sized horse?! For months Guild members have been knitting up squares, ribbons, corndogs and other goodies. This week a few of us headed over to the fairgrounds to start putting our horse together.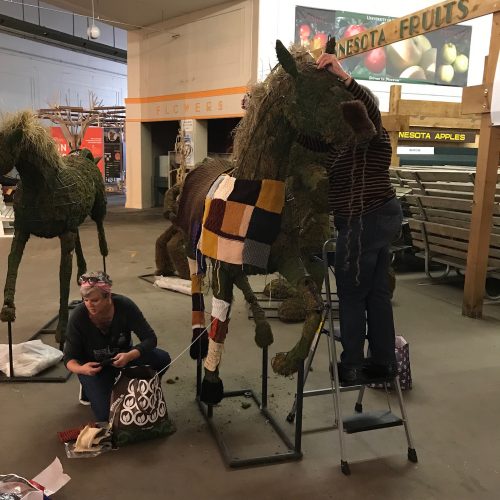 Our horse is going to have a saddle blanket covered in prize ribbons and fair food and then the rest of the horse will be squares in "real" horse colors. It takes a bit of planning to figure out how all those squares will lay out.


Then there are those special squares that we want to really plan for.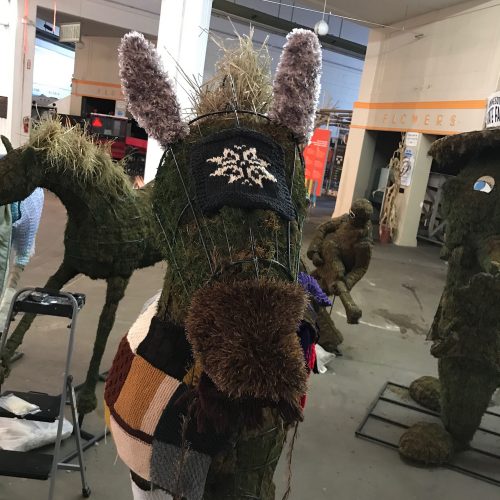 This is certainly quite the project! Hopefully, we'll be able to get it fixed in the next couple of weeks. We have a lot of sewing ahead of us. I'll keep you updated.
If you are not reading this post in a feed reader or at http://justcraftyenough.com then the site you are reading is illegally publishing copyrighted material. Contact us at jcraftyenough AT gmail DOT COM. All patterns, text and photographs in this post are the original creations & property of the author unless otherwise noted.
© 2005 – 2017 Kathy Lewinski & Susan Cornish