We are just over a month out from starting the Wee Winter Woolens KAL! Today, I want to talk a little bit about choosing your colors. Really the sky's the limit with this project. You can stick to one set color palette like I am with my blues and grays.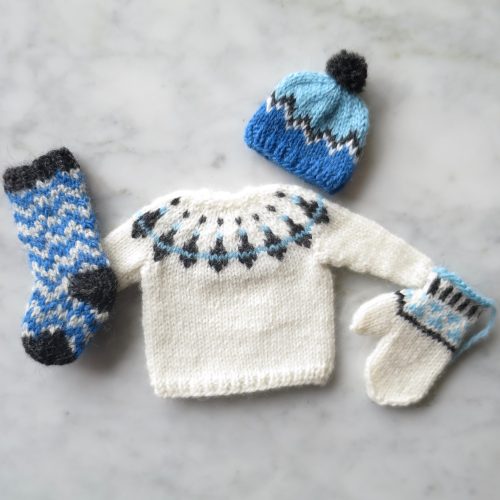 You can do each item with different colors which is a great way to go if you want to use up lots of scraps. Or you could create three different palettes and work one of each of the items in each of the patterns creating three sets. No choice is wrong.
When it comes to knitting each piece, it is worth thinking about the value of the colors to make sure the color work pops the way you want it to. What do I mean by value? What I mean is the relative darkness and lightness. Let's look at my colors.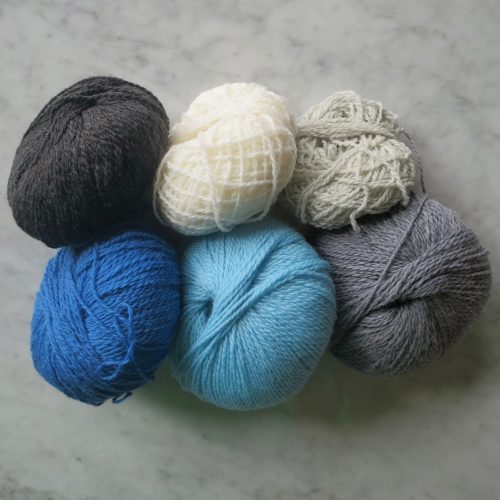 It looks like I could use any of them together and have enough contrast to make the color work stand out. Now let's look at them in black and white.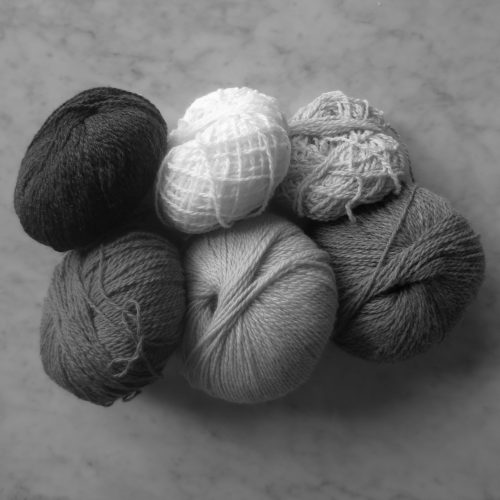 Look at the bottom two corners, the blue and the marble heather (med. gray). They have almost the exact same value when seen in black and white. If I knit something with those two colors together the color work probably isn't going to stand out how I'd like. I also need to be careful using the sky blue and the finnley heather (lt. gray) as they are pretty close in value too.
Looking at your colors in black and white is such a simple little trick, you can do it easily on most camera phones or cameras. I really has shown me why some of my color work has looked muddy even though I thought the colors had plenty of contrast.
If you are not reading this post in a feed reader or at http://justcraftyenough.com then the site you are reading is illegally publishing copyrighted material. Contact us at jcraftyenough AT gmail DOT COM. All patterns, text, and photographs in this post are the original creations and property of the author unless otherwise noted.
copyright 2005 – 2017 Kathy Lewinski and Susan Cornish