It has been a crazy month or so filled with lots of knitting related activities. This year I was part of the committee that put on the Minnesota Knitters' Guild Yarnover. Yarnover is the biggest knitting event in this area of the country and it amazes me what I a bunch of volunteers are able to pull off. Friday night, we had a meet the teachers dinner with June Hemmons Hiatt as our keynote speaker. She told us all about the history of knitting sticks and belts.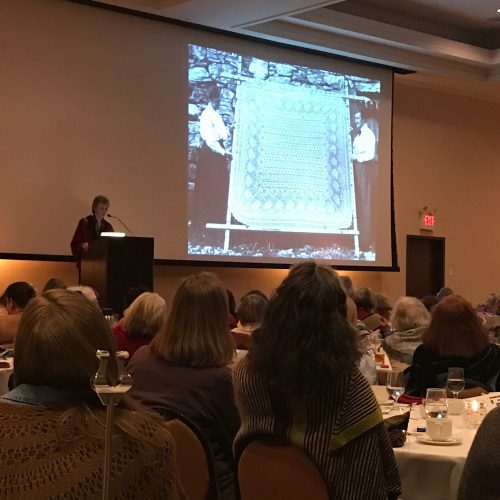 Saturday was a full day of classes and two ballrooms full of vendors.


I took a break from working in the afternoon to take a class in Icelandic Sweater Yoke Design from Lars Rains.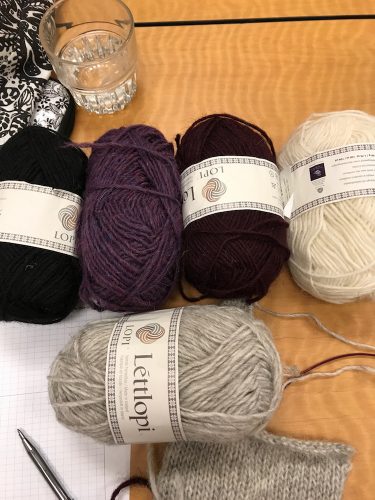 I have a real good start on my yoke design, but Lars helped me realize that the white wasn't going to work right and I need to get some of the medium grey to start knitting it up.
Sunday, the hilarious Shibaguyz were our speakers at the Guild meeting. They talked about their design process and brought some amazing samples to show off.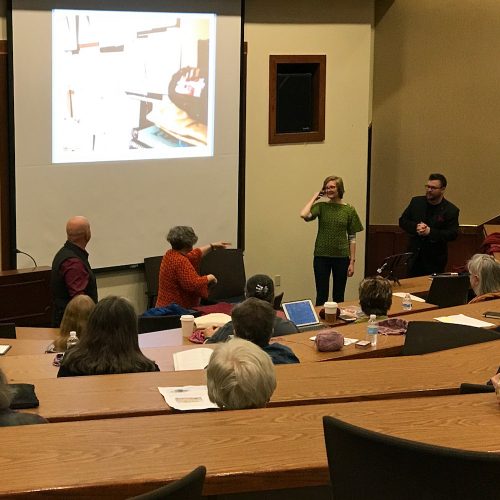 They really made me rethink how crochet looks and want to try it for some sweaters.
This past weekend we had a Stitch N Pitch with the MN Twins. It was a beautiful day out for knitting and baseball, if only the Twins had done better!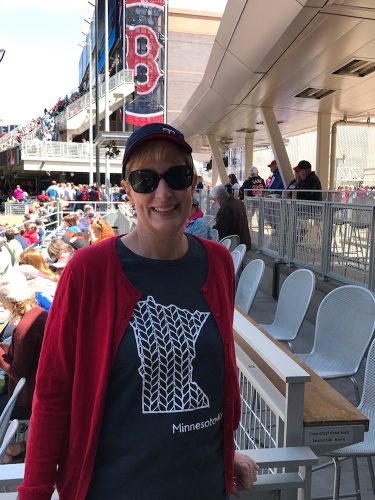 I'm also working up more samples for the Wee Winter Woolens KAL starting June 19th. Here's my latest wee sweater.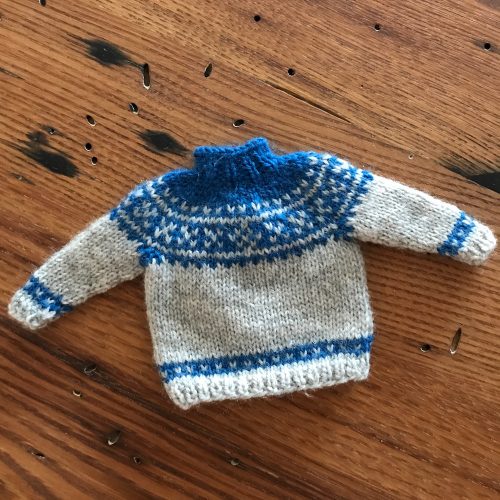 Hope you are all having a fabulous crafty spring!
If you are not reading this post in a feed reader or at http://justcraftyenough.com then the site you are reading is illegally publishing copyrighted material. Contact us at jcraftyenough AT gmail DOT COM. All patterns, text and photographs in this post are the original creations & property of the author unless otherwise noted.
© 2005 – 2017 Kathy Lewinski & Susan Cornish