It's Opening Day for baseball here in Minnesota (and a lot of the rest of the country). I'll be heading to the game this afternoon and know from past experience that outdoor baseball in MN in early April can be pretty darn cold! With that in mind I decided to knit myself a pair of Opening Day Mittens.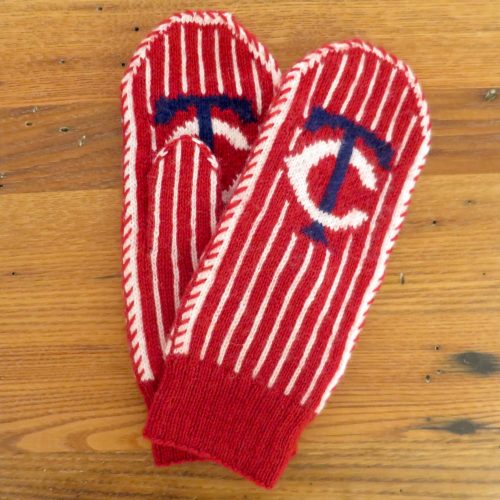 My mittens have a MN Twins logo on them. I will not be creating charts for other teams, but it is pretty simple to make your own. I've included a chart in the pattern with a blank area for you to add your own logo.
I used the free chart design tool Stitch Fiddle to help make the Twins logo. To create your chart, first find a logo for your team that you would like to use. A clear logo on a white background will work best. Now go to Stitch Fiddle, chose knitting as your craft, then chose color knitting, next pick knitting in the round, and finally chose upload picture. From here you can upload the logo you have chosen to use. Once the picture is uploaded you will want to adjust the gauge and size. For the size put in 29 as the number of columns (stitches), this is the biggest that will fit nicely on the mittens. Then chose a row number for how long you want the image. For my Twins logo, it worked well as a square so I put in 29 rows. For the gauge, you want to put in the number of rows and stitches, for this mitten the gauge is 10 horizontal and 11 vertical. Now click update preview. Then click open chart. From here you can make any refinements to the chart. When creating your chart, remember to think about how many colors you want to knit with at a time. Then you've got your own team logo to add to your mittens.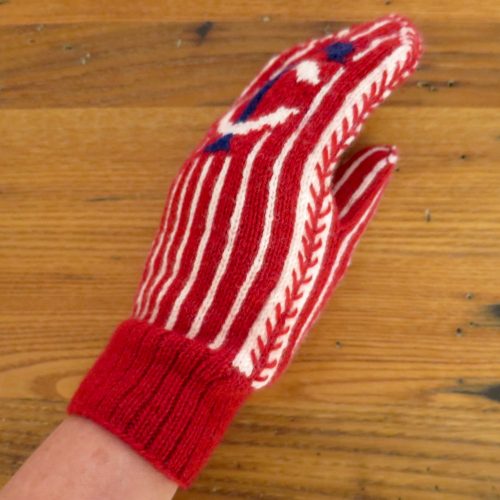 One of my favorite things about these mittens is the stitching I did around the edges to imitate the stitching on a baseball. It only takes very simple straight stitches, but I think adds so much to the finished mittens.
Download the Opening Day Mittens Pattern
These mittens are knit with fingering yarn at a gauge of 10 stitches and 11 rows per inch. When knit at this gauge they will fit a 7.5″ wide hand (women's medium). If you want a bigger mitten, knit them at 9 stitches and 10 rows per inch, they will be 8.5″ wide (men's medium).
This pattern has only been knit by me. If you find any errors in it please let me know.
If you are not reading this post in a feed reader or at http://justcraftyenough.com then the site you are reading is illegally publishing copyrighted material. Contact us at jcraftyenough AT gmail DOT COM. All patterns, text and photographs in this post are the original creations & property of the author unless otherwise noted.
© 2005 – 2017 Kathy Lewinski & Susan Cornish