I have finished all my secret knitting for the time being and can get back to working on some knitting for me. I'm busily trying to finish my einrum E+2 HB02 sweater.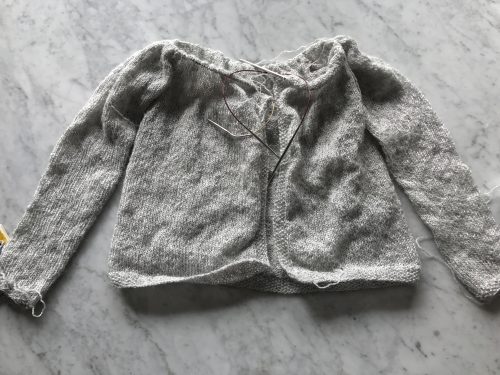 I finished the second sleeve last night and joined all the pieces to start on the yoke. It took more time than I hope, because first I dropped a stitch (luckily this yarn is quite sticky) and then I found a mistake in the pattern. The stitch number was off for the front sections and this was putting the cabled decrease sections in the wrong place. I realized after I had knit all 279 stitches. So tick, tick, tick. I figured out the numbering was right for all the other sizes except the XL, which is what I am knitting. Now I am on track and have gotten through the first repeat of the cables.
I'd really love to wear this to Yarnover in a week and a half, so fingers crossed for me.
If you are not reading this post in a feed reader or at http://justcraftyenough.com then the site you are reading is illegally publishing copyrighted material. Contact us at jcraftyenough AT gmail DOT COM. All patterns, text and photographs in this post are the original creations & property of the author unless otherwise noted.
© 2005 – 2017 Kathy Lewinski & Susan Cornish