We aren't vegetarian by any means in our house, but we still often find ourselves making meals without meat. We typically don't miss it and it is helpful when we are watching are calories.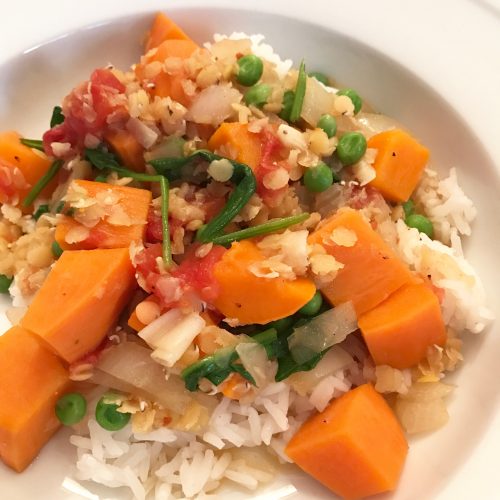 This dish is one that I adapted from something in a William Sonoma catalog. The original version used acorn squash, but I felt that it got really lost in the seasoning. Sweet potato stand up to the other flavors a little better. I also felt like it needed some green, so I added the peas (which give a nice sweetness) and the spinach.
Spice it up a little more if you wish with some dried red peppers or just at some hot sauce when you eat it. We like it over jasmine rice, but you could also eat it just as it is for a one pot meal.
Sweet Potato Dal
Ingredients:
2 T olive oil
1 yellow onion, chopped
1 t cumin
1 t ground coriander
1/4 t cayenne (or more to taste)
2 cloves garlic, minced
14.5oz can crushed tomatoes
1 c dried red lentils
1 lb sweet potato, peeled and cut into 1/2″ pieces
4 c water
salt
pepper
3/4 c frozen green peas
2 oz baby spinach leaves
1. In a large skillet with tall sides, dutch oven or soup pot, heat the olive oil over medium-high heat. Add the onion and sauté until it is starting to soften and become translucent, 3 – 4 minutes.
2. Add the cumin, coriander, cayenne and garlic. Sauté until fragrant, about 2 minutes.
3. Add the tomatoes, lentils, sweet potato, water and a good pinch of salt. Bring to a boil. Turn the heat down to a simmer and let cook uncovered until the sweet potato and lentils are tender, about 45 minutes. It will still be a little saucy.
4. Stir in the peas and spinach. Cook until the peas are hot and the spinach is wilted. About 5 minutes.
5. Taste for seasoning and add salt and pepper if needed.
Serve on its own or over jasmine rice.
Makes 6 servings when served over rice or 4 servings on its own.
Approximately 1518 calories total (253 each for six servings or 380 each for four servings)
If you are not reading this post in a feed reader or at http://justcraftyenough.com then the site you are reading is illegally publishing copyrighted material. Contact us at jcraftyenough AT gmail DOT COM. All patterns, text and photographs in this post are the original creations & property of the author unless otherwise noted.
© 2005 – 2017 Kathy Lewinski & Susan Cornish