It's hard to believe that it is that close, so I better get these mittens finished.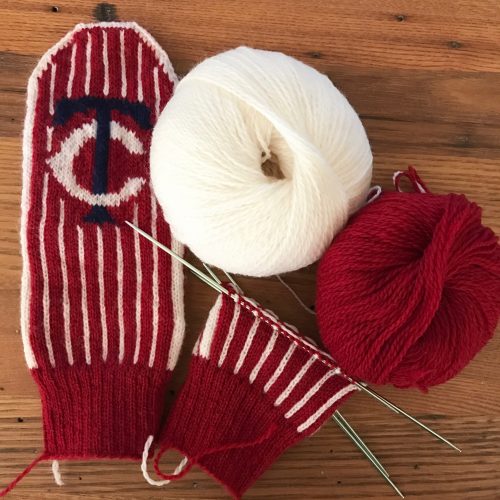 This will be my third year going to the Twins' home opener and I have learned just how cold it can be. This year is the earliest yet.
I will admit to struggling a bit with these. First of all, I find color work vertical stripes tend to pucker. These mittens have a lot of stripes, so there is a lot of puckering. I'm really hoping blocking on my mitten blockers will flatten them out some. Though when they are on, most of the puckering goes away anyway.
Secondly, the area with the Twins logo is worked in three color, which I always find tricky. Typically, three color area become very tight and pull in on my knitting. I have tried really hard with these mittens to concentrate on keeping my gauge even between two and three color knitting. I think I've done a pretty good job of it, but it really requires me to think about what I am doing. No mindless knitting for that part of the project anyway.
Once, these are knit and blocked, they will get stitches along the edges to mimic the stitching on a baseball. I think it will be the perfect finishing touch.
If you are not reading this post in a feed reader or at http://justcraftyenough.com then the site you are reading is illegally publishing copyrighted material. Contact us at jcraftyenough AT gmail DOT COM. All patterns, text and photographs in this post are the original creations & property of the author unless otherwise noted.
© 2005 – 2017 Kathy Lewinski & Susan Cornish