Oops, I missed sharing with you guys for a week!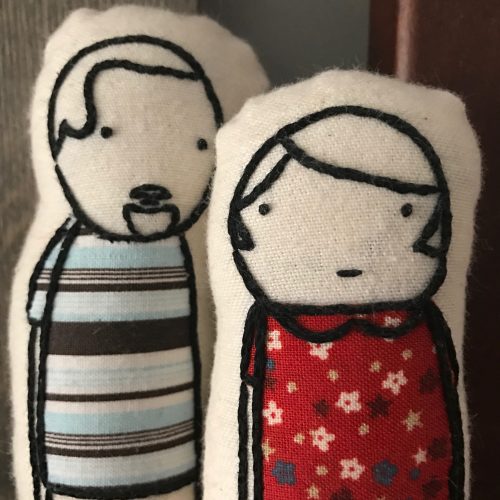 Day 13 – Selfie
I didn't feel up to a real selfie, so instead I shared embroidered doll selfies of Matt & I.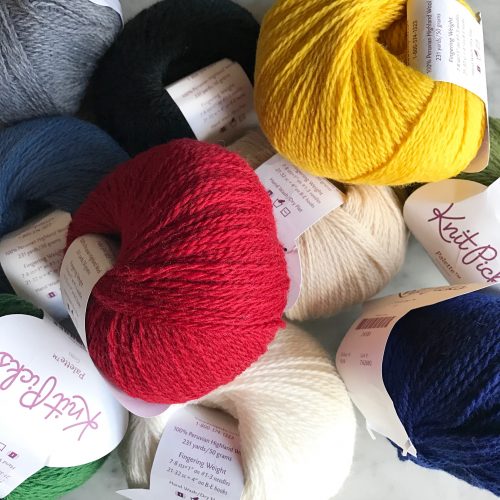 Day 14 – Yarn Love
My yarn love has to be Knit Picks Palette. The 150 colors make is perfect for designing color work.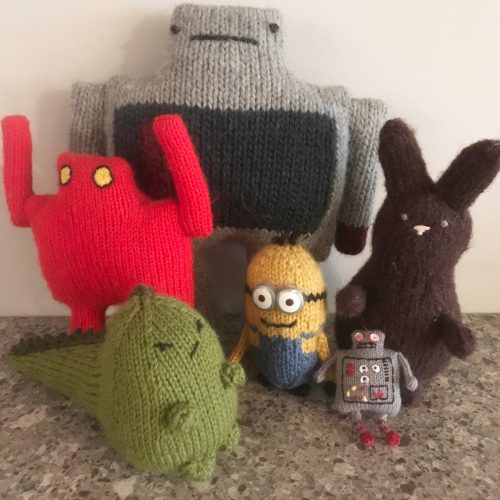 Day 15 – Family
Some of the family of creatures I've knit for Matt in the years we've been together.


Day 16 – Happy Color
Red is my happy color. I wouldn't want it everywhere, but I do love a pop of it.


Day 17 – Fiber Friends
A few of the fiber friends who live in my craft room.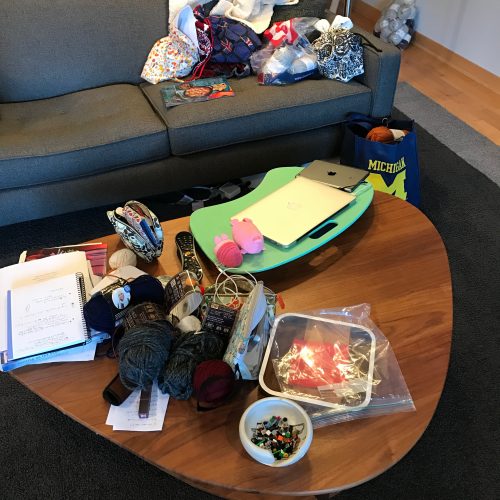 Day 18 – Grateful
I'm grateful for a husband who is ok with his living room being covered in my knitting projects.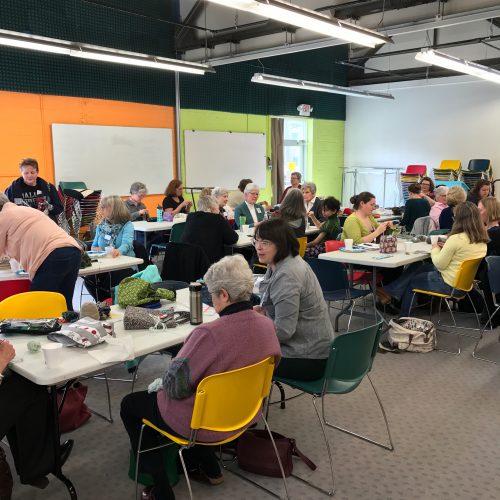 Day 19 – On the Go
Knitting on the go at the MN Knitters' Guild annual tea party.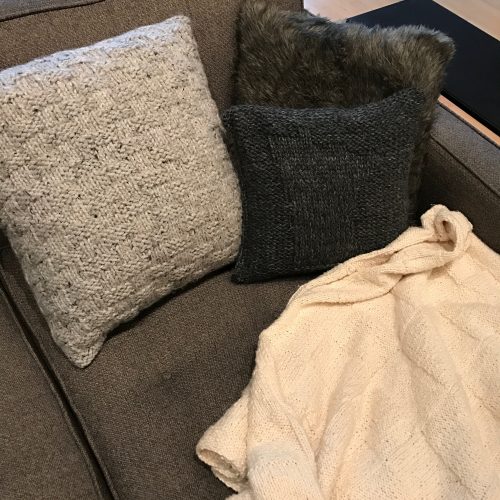 Day 20 – Handmade Home
Of few of the many pillows I've knit and sewn for our house, as well as, the blanket I knit for Matt as a wedding present.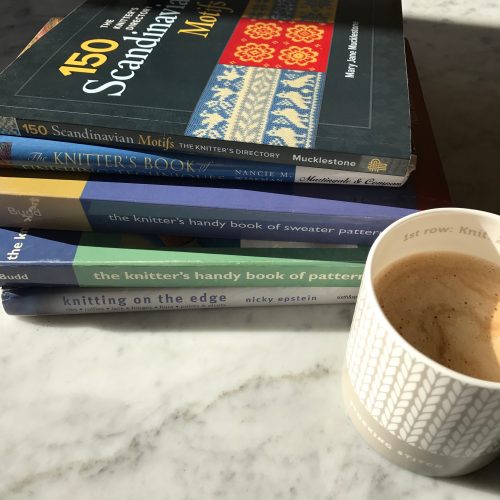 Day 21 – Library
Since I tend to create my own patterns, I don't have a huge crafting library. I do, though have a nice collection of what I consider reference books to help me design.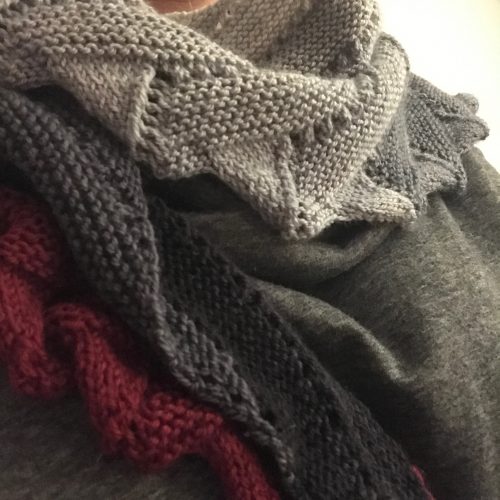 Day 22 – Currently Wearing
It is not cold enough for most of the things I've knit, but my Alzada shawl is just right.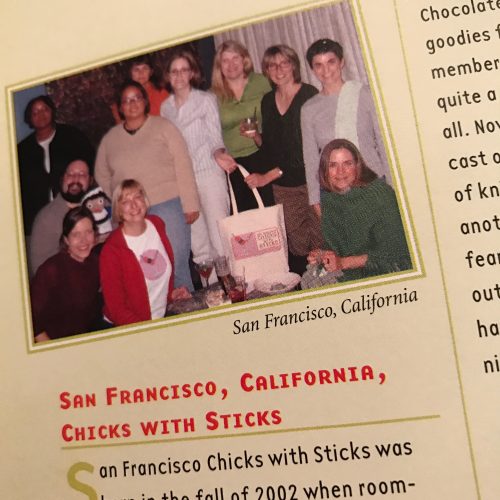 Day 23 – Throwback
My San Francisco knitting group from back in the early 2000's. I've knit with a lot of people since, but this was the best group ever.


Day 24 – Favorite Tip
I love using the short needles many people use for socks for knitting mitten thumbs and cabling.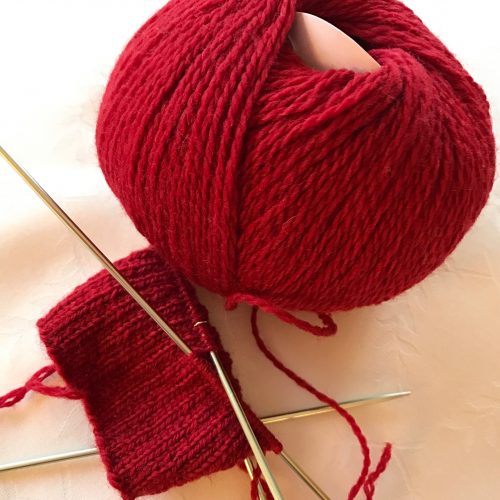 Day 25 – Routine
It is very routine for me to cast on a new set of mittens. I've made so many and have so many more planned.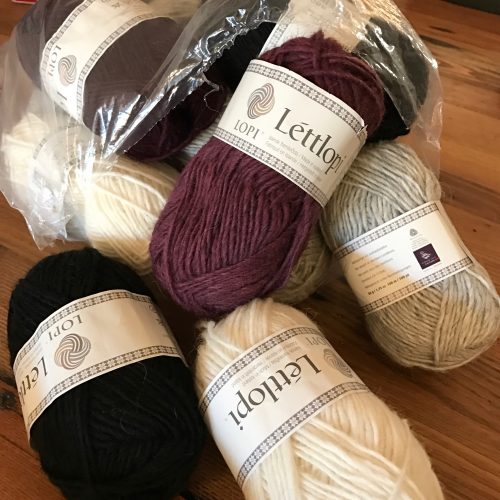 Day 26 – Newest Stash
My latest stash is one you have seen on here, it's the Lettlopi I bought in Iceland in January.
Just two days left to go!
If you are not reading this post in a feed reader or at http://justcraftyenough.com then the site you are reading is illegally publishing copyrighted material. Contact us at jcraftyenough AT gmail DOT COM. All patterns, text and photographs in this post are the original creations & property of the author unless otherwise noted.
© 2005 – 2017 Kathy Lewinski & Susan Cornish