Happy New Year and welcome to our National Knit Mitten Month knit along for 2017. This week we'll be knitting the cuff of our mittens.
This year's mitten has a hemmed picot edge cuff with no ribbing. If you have never done a hemmed edge, here is a video of the technique. A cuff like this does not have the stretch of a ribbed cuff and tends not to fit as tightly, but it is very pretty. You can, of course, do a ribbed cuff if you prefer and I give instructions for that in the pattern.
What colors should you use for this section? The cuff should be done in your main color. If you are using more than two colors in your mittens, I would suggest using your second contrast color for the colorwork. For my mittens, I used the coral pink.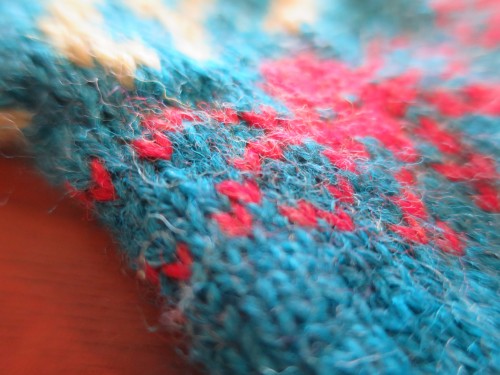 So, off we go! Download the clue for the size you need. (Note: There was a small error in the chart with the mirroring. It was fixed on 1/2/17 at 5:45pm cst.)
Just a reminder, the gauge us 10 stitches and 12 rows per inch. I used size 1 needles to get gauge and for knitting the hand and size 0 needles for the cuff.
Under The Sea Mittens Small Clue 1– 7″ width
Under The Sea Mittens Medium Clue 1 – 7.5″ width
Under The Sea Mittens Large Clue 1 – 8″ width
If you are not reading this post in a feed reader or at http://justcraftyenough.com then the site you are reading is illegally publishing copyrighted material. Contact us at jcraftyenough AT gmail DOT COM. All patterns, text and photographs in this post are the original creations & property of the author unless otherwise noted.
© 2005 – 2017 Kathy Lewinski & Susan Cornish