January is National Knit Mitten Month and to celebrate we'll be having a mitten knit along!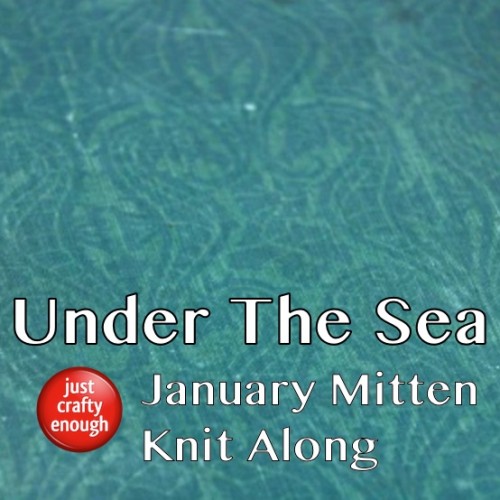 The design this year has an under the sea motif inspired by a cover of a vintage version of Moby Dick. You can see the cover as the background of our KAL image. (Feel free to use the image above on your Ravelry project page or in blog posts.)
Here are a few details….
We will be using fingering weight yarn
I am using 3 colors of yarn, you want the colors to have enough contrast so you can tell them apart when knit. I am using Knit Picks Palette in Calypso Heather, Green Tea Heather and Raspberry. You could also so this in 2 colors, but I think three is more fun. Tonal or a yarn with long color changes would be beautiful in this pattern. I do not recommend using hand painted or yarns with lots of quick color changes, because the details of the pattern get lost. You can read a little more about picking your colors in the planning thread.


You'll need approximately 34g/158yds of your main color (blue for me), 23g/107yds contrast color 1 (light greenfor me) and 6.6g/31yds of contrast color 2 (coral pink for me). This is based on the 7.5in size, the larger size will require more.
Gauge is 10 stitches and 12 rows per inch. It is important to get gauge to get the right size!
The mitten will be available in three sizes, 7", 7.5" and 8" wide.
Clues will be released on Monday Jan 2, 9, 16 and 23, 2017. Clues will be released here and you'll find links on the Ravelry forum and pattern page.
Use #UndertheSeaKAL as the tag
All you have to do to join is start knitting with us on January 2nd! Join our group on Ravelry to keep up on the clues and chat.
If you are not reading this post in a feed reader or at http://justcraftyenough.com then the site you are reading is illegally publishing copyrighted material. Contact us at jcraftyenough AT gmail DOT COM. All patterns, text and photographs in this post are the original creations & property of the author unless otherwise noted.
© 2005 – 2016 Kathy Lewinski & Susan Cornish