Yesterday was the first day of the Minnesota State Fair so the results are in for all the creative activities competitions. I entered two knitting projects this year and both of them get a ribbon!


My husband convinced me to enter my Mitten Garland Advent Calendar. There really is no category for this type of thing, so it goes into Hand Knitting: Not Otherwise Specified, Not Wearable. What a surprised to see a took first prize.
And of course, there were my Pride and Prejudice mittens.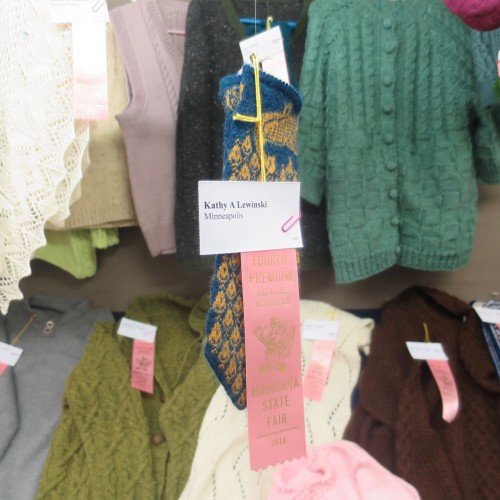 They only took 4th place. I have to say I love the pattern, but I struggled a bit with the knitting. The Knit Picks Alpaca Cloud yarn I used it soft and gorgeous and the perfect colors, but I'm not sure it showed the stitches as well as the judges would like. I'll be interested to read the comments when I pick them up.
If you are not reading this post in a feed reader or at http://justcraftyenough.com then the site you are reading is illegally publishing copyrighted material. Contact us at jcraftyenough AT gmail DOT COM. All patterns, text and photographs in this post are the original creations & property of the author unless otherwise noted.
© 2005 – 2016 Kathy Lewinski & Susan Cornish