It's finally here, the start of the 12 Days of Christmas Mitten Garland Knit Along! Most of you have seen our Partridge in a Pear Tree in the sneak peek, now you get to start knitting it. I will announce the winner of the giveaway tomorrow.


If you did last year's Advent Calendar Mitten Garland, you will notice a few changes. We are doing a garter stitch cuff instead of Latvian braid and I have added an extra row to the thumb to make the first set of make ones easier to do.
Speaking of the garter stitch cuff, you may find you want to knit this with a size smaller needle than the rest of the mitten. This is because purling in the round can often be looser than knitting. Also, make sure you are keeping the same gauge in areas with color work and those without, a lot of people knit color work tighter than plain knitting.
Download the 12 Days of Christmas Mitten Pattern. This is the pattern we will be using for all Twelve mittens. Print it out or save it to you computer, so you don't have to keep coming back to this post.
Download the 12 Days Mittens Chart 1. You will notice this pdf contains two charts. The first chart has a mirrored image on both the front and back of the mittens. By request, the second chart has a number on the back instead of the image. I've also added a bit of vine on the number side so it wasn't so plain, the number is centered so you can do it with or without the vine. Both charts have an optional number charted on the thumb. This gives you lots of options to make these mittens your own.
Just a note, I knit these up with the image mirrored on both side and no numbers. That means all the yarn amounts are based on that. I don't think doing the numbers will change it a ton, but you might use a little less of the darker color and a little more of the lighter.
Mitten 2 will come out on June 27th, so you have two weeks to get this one done. As an incentive to keep up, everyone who finishes their set by December 1st will be entered in a prize drawing.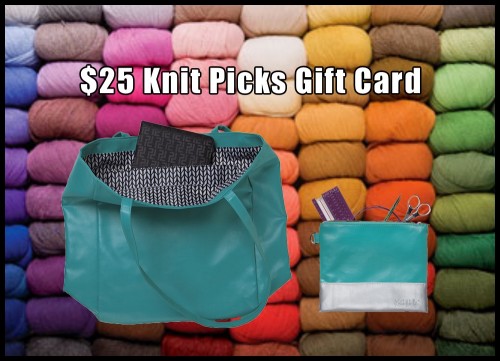 One winner will get a tote bag and matching tools bag in the color of their choice (from the colors available at the time) and a $25 gift certificate, all courtesy of Knit Picks. We'll have more details as we get closer. (Due to shipping, only people in the US, Canada, UK and Australia are eligible for the drawing.)
If you are not reading this post in a feed reader or at http://justcraftyenough.com then the site you are reading is illegally publishing copyrighted material. Contact us at jcraftyenough AT gmail DOT COM. All patterns, text and photographs in this post are the original creations & property of the author unless otherwise noted.
© 2005 – 2016 Kathy Lewinski & Susan Cornish