I had so much fun hosting last year's Mitten Garland Advent Calendar KAL, I couldn't resist coming up with a new mini mitten knit along for this Christmas. This year will will be making twelve mittens that represent the song "The Twelve Days of Christmas."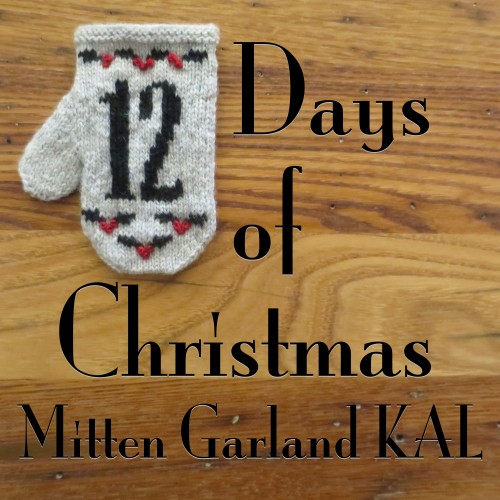 My inspiration for these mittens is papercuts and wood block printing. All of the mittens have a graphic, silhouette look and will have the same design at the cuff. Each mitten uses two colors for the main image and a third color for berries at the cuff.  I am using Knit Picks Palette in Finnley Heather, Black and Pimento. You can do all your mittens the same colors or make each one different. I would suggested you choose colors with good contrast, so the designs show up well. I would also suggest not using a yarn with too much quick color changes (like hand painted yarns) as that will take away from the crispness of the designs. Here is a peak at mitten number 1.


You will also want to think about peek through when choosing your colors since these designs will require catching longer floats. I tried knitting it in cream and black and white and black and was not happy with how the black showed through even at my gauge. Changing to a light grey really made a difference.
My mittens are about 2.5″ wide (without the thumb) and 4.5″ long. You do not need to knit the mittens at my gauge or size, but I think they are just right for using as a Christmas tree decoration, on packages or, of course, as a garland.
This year you will have two weeks between mittens. That should give everyone time to keep up. If you are a quicker knitter you'll have time to work on other projects or make multiple sets as gifts. Or if you want to turn this garland into an advent calendar, use the off weeks to knit another twelve mittens. The Mitten Garland Advent Calendar has twenty-four more designs you could use, just change the Latvian braid at the cuff to garter stitch to match these.
PRIZES!
(**This giveaway ended on 6/12/16.)
The lovely folks at Knit Picks liked the Advent Calendar KAL so much, they decided to offer us prizes packages for this year's KAL**. Our first prize package is a set of tools perfect for knitting these mini mittens.


This prize package contains, a chart keeper, 5″ Caspian wood double pointed needle set, sock knitting needle holders, and a project bag. You can enter to win just by joining this knit along before we release the first pattern on Monday, June 13th, 2016. Make a project page on Ravelry for the KAL and leave us a link to it in the comments of this post. If you don't use Ravelry, just leave us a comment letting us know you are joining in. We will chose a winner randomly on June 13th. Because of shipping, only people in the US, Canada, UK and Australia are eligible to enter.
We will have another prize package in December for those who finish the KAL. Details on that one will come later.
DETAILS
Dates: The first pattern will be released Monday, June 13th. A new mitten pattern will follow every other Monday through November 14th. Pattern links will be posted on Ravelry, but the patterns will be downloadable from this site. If you get one mitten done every two weeks, you'll have a whole set done for the holidays.
Ravelry: We have a Ravelry group which was really active for last year's KAL so please join in. There is also a pattern page set up for the KAL, feel free to use the image I created for your project page.
Yarn: I am using fingering weight yarn. Each mitten takes about 3g/14yds of the dark yarn, 6g/28yds of the lighter yarn and a scrap amount of a third color for the berries. Twelve mittens should take about 36g/168yds of dark yarn, 72g/336yds of light yarn and 9g/41yds of a third color.
Needles: I am using four size 1 double pointed needles to get gauge. I really like using shorter sock knitting needles on these, especially for the thumbs. You may also want needles a size smaller for the garter stitch at the top depending how you knit.
Gauge: My gauge is 10 stitches and 12 rows per inch on size 1 needles. My finished mittens are about 2.5″ wide (without the thumb) and 4.5″ long.
Skills : knitting and purling in the round (either on double-points or with two circulars or magic loop), working stranded color work, reading color charts, doing m1l and m1r, picking up stitches, basic decreases (ssk and k2tog) and kitchener stitch. This is a great project for practicing knitting in the round and color work
** Knit Picks has been nice enough to provide my yarn for this knit along and two prize packages for giveaways. They have not reimbursed me in any other way or any input into the content of my posts.
If you are not reading this post in a feed reader or at http://justcraftyenough.com then the site you are reading is illegally publishing copyrighted material. Contact us at jcraftyenough AT gmail DOT COM. All patterns, text and photographs in this post are the original creations & property of the author unless otherwise noted.
© 2005 – 2016 Kathy Lewinski & Susan Cornish