I belong to the Minnesota Knitters' Guild and this past week we started our Yarn Ends Challenge. If you are a knitter, you probably have a stash of all those little bits and bobs of yarn leftover from past project, 8 grams here, 4 grams here… So, the Guild is challenging us to use them up in a project that can be as small as a dishcloth or as big as a sweater.
I've gotten rid of a lot of my ends in the last year, but here is what I've pulled together so far for this challenge.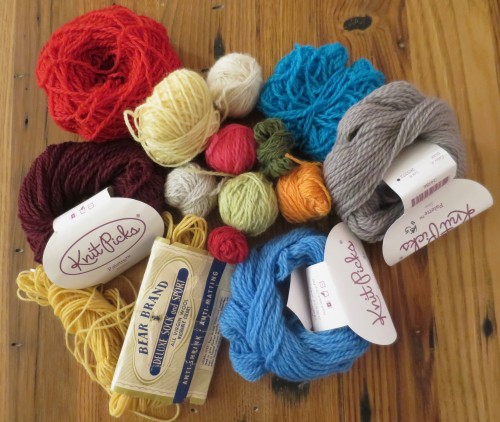 Some of it is from my own stash and some of it is from yarn ends people brought to the Guild meeting to trade.
I thought perhaps some of you knitters out there might like to join in. Flash your yarn ends on our Ravelry forum. Trade ends with your knitting friends. Then knit up a project made mainly of your ends. You are allowed to add in yarn that is not an end, the example given at the Guild meeting was a black yarn for background to tie everything together. Let's see how you can get rid of that stash!
If you are not reading this post in a feed reader or at http://justcraftyenough.com then the site you are reading is illegally publishing copyrighted material. Contact us at jcraftyenough AT gmail DOT COM. All patterns, text and photographs in this post are the original creations & property of the author unless otherwise noted.
© 2005 – 2016 Kathy Lewinski & Susan Cornish