Welcome to our first Mystery Knit Along! Every week for the next four Mondays we'll release part of the pattern to make a pair of our Winter Snows Mittens. For more of the basic information, see this post.


I want to say upfront that this is my first MKAL and the first time I've written a mitten pattern in three sizes, so please be kind. I have done my best to check and double check everything, but these have not been tech edited.
I'll give tips for knitting each section as we go along as well as ways you can check and adjust the sizes to fit you best.
This week we'll be doing the cuffs and starting the hand of the mittens. The pattern is written with a 2″ cuff. The first inch is ribbed and the second half starts the colorwork. If you would like a longer cuff, I have added instructions on where to add more ribbing.
Jogless colorwork
If you have ever knit stripes in the round you know that you get a jog or step at the beginning of a round. There is a way to fix this when you have stripes that more than one round. Finish the first color and knit one round of the second color. When you get to the first stitch of the second round of the second color, pull up the stitch below from the first color on to the left needle. Now knit those two stitches together.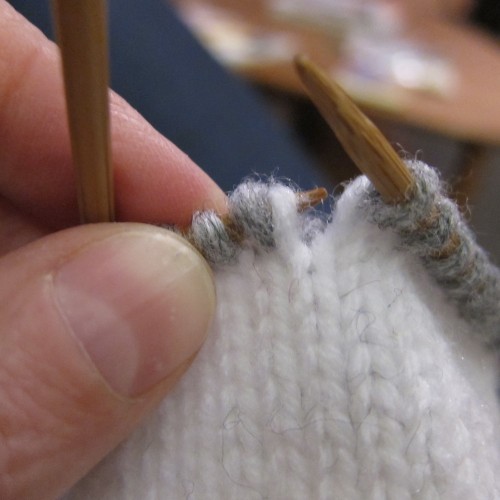 Here is the thing though, we are not doing stripes, we are doing a colorwork pattern. You can still use this method. It isn't perfect but it does make the jog a little less noticeable. At the top of this picture you can see where I used it on the center top "v" on both the black and white.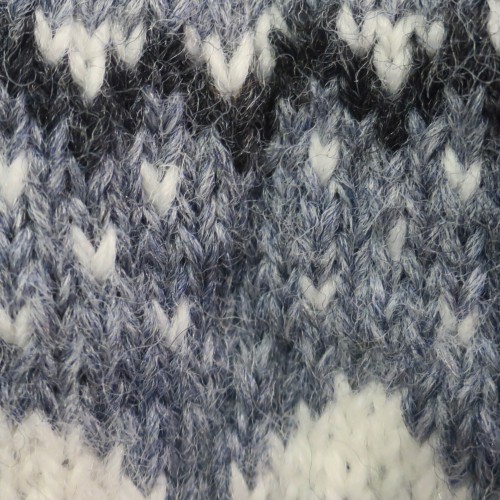 It is really up to you whether you chose to work use this method or just live with the jog. Just remember you can only use it where the new color is worked for at least two rows on the first stitch of the row.
And let's get on to the pattern!
There are three different pdfs you can download here, each is for a different sized mitten. Please keep in mind these sizes are based on getting gauge, if your gauge is off your finished size will be different. Also you will see each size has two slightly difference length options available too, though that won't come into play until later in the KAL.
Winter Snows Mittens Small Clue 1 – Small 7″(17.87cm) wide by 7″ (or 6.75″) long
Winter Snows Mittens Medium Clue 1 – Medium 7.5″(19cm) wide by 7.5″ (or 7.25″) long
Winter Snows Mittens Large Clue 1 – Large 8″(20.32cm) wide by 8″ (or 7.5″) long
If you are not reading this post in a feed reader or at http://justcraftyenough.com then the site you are reading is illegally publishing copyrighted material. Contact us at jcraftyenough AT gmail DOT COM. All patterns, text and photographs in this post are the original creations & property of the author unless otherwise noted.
© 2005 – 2016 Kathy Lewinski & Susan Cornish