Every Friday for the twenty-four weeks leading up to December 1st, we will be making a handmade Christmas ornament. Follow along and make them all or pick and chose your favorites.
For this week's ornaments we are working with wooden coffee stirrers again. Last time, we turned them into a tiny toboggan, this time it's a tiny sled.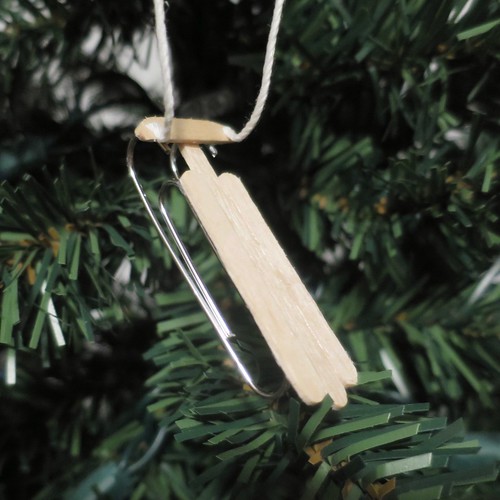 This sled is much easier to make than the toboggan since you don't have to bend the wood. Jumbo paperclips make perfect little sled runners and you don't have to try bending the curve in the wire yourself.
Tiny Wooden Sled Ornament
Supplies:
wooden picks or coffee stirrers, you'll want two or three
scissors that can cut the stirrers, I used kitchen shears
tacky glue
varnish, polyurethane or wood stain (optional)
two jumbo paper clips
wire cutter
fine twine or embroidery floss
1. Cut the wooden sticks into four pieces. Two pieces should be 1.5″ with rounded ends. One piece should be 2″ and rounded on both ends. The final piece should be about 1″ long with the ends and one long edge rounded.


2. Glue the 1.5″ pieces on either side of the 2″ piece and the 1″ piece on top of the longer piece like shown. Let dry.


If you want to varnish, paint or stain the sled do it now.
3. With the wire cutters, cut about 1″ off the end of the paperclip clips.


Turn the wooden piece over and glue the paperclips on either side. You may need to bend the open curved end slightly to get is to sit flat on the sled. Let dry.


4. Cut a piece of twine long enough to hang the sled and glue it to either side of the front piece of the sled.


If I had wanted to be really accurate. I could have drilled small holes in the front piece of the sled and put the twine through them with knot to hold it in place, but I was afraid it would split the wood.
If you are not reading this post in a feed reader or at http://justcraftyenough.com then the site you are reading is illegally publishing copyrighted material. Contact us at jcraftyenough AT gmail DOT COM. All patterns, text and photographs in this post are the original creations & property of the author unless otherwise noted.
© 2005 – 2015 Kathy Lewinski & Susan Cornish