I got some of this Fettucini yarn by Lion Brand and I was inspired. I loved the feel of it and I LOVED the way the stripes ran through it. It was almost like bouncing musical notes.
Here is some Fettuccini on the Lion Brand Site.
The skein I got was black and white with shots of shocking pink. It is quite fabulous.


First of all, I tried a couple of things with it, and they were not quite right.
I tried knitting.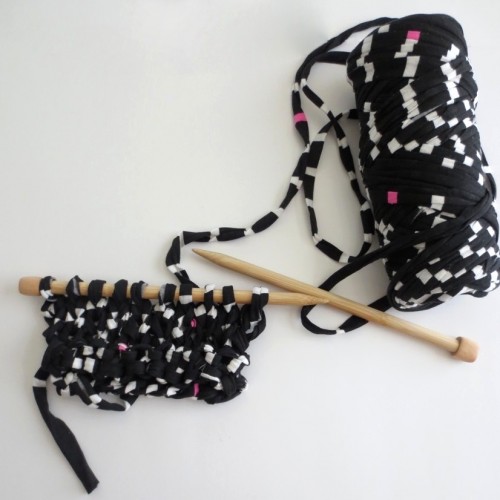 You can see garter stitch and then stockinette. Neither one is quite right. The fine sharp "notes" of the black and white get kind of stirred together.


So I tried a single strand instead.


I made a single chain knit necklace. And I feel the same about that, mushy.
Finally I just went with the multi strand necklace.


Voila! That is exactly the rhythm I was shooting for.
Cotton Yarn Necklace Project
Supplies:
one ball of Fettuccini yarn (or any equivalent t-shirt or cotton strip yarn)
needle and thread (regular sewing needle)
Directions:
For this necklace I pulled out strands of the yarn and found the repeat. I liked the length that the pattern repeat was on, so I stuck to that. For my necklace this meant 36 inch loops. I made 10 loops and then left extra yarn and cut. Figure out where you want the "top back" of your necklace to be and that is where you will wrap the yarn around to secure it. First, using a needle and thread run the thread through the whole thickness of all the layers of yarn to give the whole thing some stability. Then start to loop the yarn around the whole bundle to secure it.


The first time you go around, go under the loop to form the first part of a knot. Then with each subsequent wrap, just layer the yarn flat against the last wrap, forming a smooth casing. Each time I did a wrap, I secured it with one stitch, on the edge of the yarn, and then covered the stitch with the next wrap.
When you have as much as you want, cut the end off, turn a tiny "hem" in that end of the yarn and secure it down with some small stitches.

You're done! Wear your new necklace!

If you are not reading this post in a feed reader or at http://justcraftyenough.com then the site you are reading is illegally publishing copyrighted material. Contact us at jcraftyenough AT gmail DOT COM. All patterns, text and photographs in this post are the original creations & property of the author unless otherwise noted.
© 2005 – 2015 Kathy Lewinski & Susan Cornish