Every Friday for the twenty-four weeks leading up to December 1st, we will be making a handmade Christmas ornament. Follow along and make them all or pick and chose your favorites.

This week's ornament was inspired by a conversation Susi and I had after she saw this wreath at the Shady Hallow Flea Market.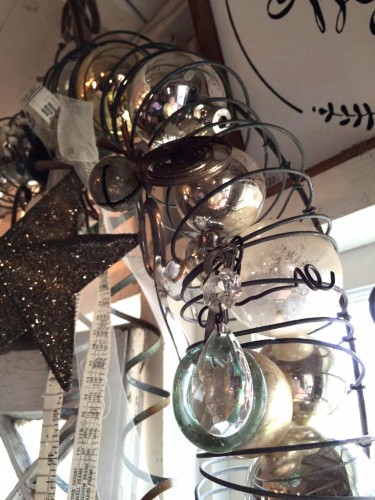 Susi said they were selling the empty wire forms, but wondered how hard it would be to make your own. Well, that got me thinking and I came up with this mini version using jewelry wire.


While the inspiration version is shabby chic, I think this is a pretty modern looking ornament. I chose to string beads right on it, but you could copy the inspiration even closer by putting larger beads inside the wire wreath.
Wrapped Wire Wreath
Supplies:
20 gauge wire
3/4″ dowel, marker, knitting needles for wrapping
wire cutter
red seed beads
22 gauge wire (optional)
small pliers
tacky glue
1/8″ wide red ribbon
scissors
1. Carefully wrap the wire around a dowel, marker or large knitting needle. Try to keep it relatively neat, but your wraps do not need to me the exact same distance apart.


Wrap until you have enough length to make the size wreath you want plus a little extra to join the top together. Mine was about 6″.


Cut from the spool of wire leaving a little tail.
2. Thread the amount of beads you want on to the wreath. You will be gluing them into place later.
3. Form the wrapped wire into a wreath shape. Place the rings at each end side by side and join them together with the tails to keep the wreath shape. Small pliers really help with this step. (If you find the tails aren't holding it together as well as you'd like you could use a piece of 22 gauge wire to join them together, which is what I ended up doing.)


This join will be the top of the wreath and you will cover it with a bow.

4. Move the beads to where you want them around the wreath. Put a small dot of glue at each place to hold the bead.


Let dry.
5. With the ribbon, tie a small bow to the top of the wreath, where you joined the ends together. I put a little glue on the knot at the center of the bow to keep it from untying.


Glue the bow into place on the wreath.


Tie another piece of ribbon on behind the bow into a loop for hanging.
If you are not reading this post in a feed reader or at http://justcraftyenough.com then the site you are reading is illegally publishing copyrighted material. Contact us at jcraftyenough AT gmail DOT COM. All patterns, text and photographs in this post are the original creations & property of the author unless otherwise noted.
© 2005 – 2015 Kathy Lewinski & Susan Cornish