For this Iron Craft challenge we are making something with the letter C….
In our house, I have been changing the way we eat. And as part of that change I have tried to find and serve less "processed white food". (good luck with that, right?) I enjoy looking at Sarah Britton's site My New Roots. She publishes recipes and information without attitude. When I saw the Life-Changing-Cracker, I knew I had to try it.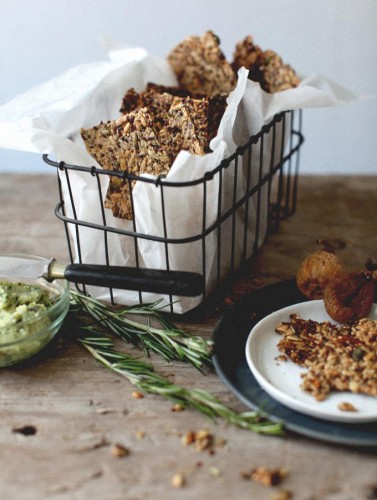 This is photo was taken by Sarah herself, and these are how HER crackers look, so that was the goal.
There were LOTS of ingredients on the list that I do not have in my pantry, like psyllium seed husks or 1/3 C pumpkin seeds. So, the first step for me was to head to Whole Foods and hit the bulk isle. I was able to estimate two tablespoons of this and 1/4 C of that and come pretty close to the recipe. I spent $5.98 on the ingredients whichI didn't think was too bad considering that a box of this kind of nutty cracker runs $5.00 and this batch will produce about 2 boxes (by weight).
I am not going to lie, there are steps involved. First, you need to soak the seeds for easier digestion. (I am not sure if you are supposed to soak them all or just the chia seeds. I went with just the chia seeds.) You make the "dough" and let it rest a little bit. Then you roll it out and let it dry. Then you score the sheets into crackers and cook them.
Here is how mine came out of the oven.


I give them high marks. They really had a lot of flavor. I am not sure if they have changed our lives yet, but they were good. They are very nutty. Because there is so much going on, they are not a great vehicle for cheese.


But, they would be a neat party trick. And easy to make ahead. I think they are gluten free as well. So they would offer a nice option for guests with that restriction. (however, clearly they are not nut free.)
If you are not reading this post in a feed reader or at http://justcraftyenough.com then the site you are reading is illegally publishing copyrighted material. Contact us at jcraftyenough AT gmail DOT COM. All patterns, text and photographs in this post are the original creations & property of the author unless otherwise noted.
© 2005 – 2014 Kathy Lewinski & Susan Cornish