My barge and biking trip to North Holland last week included a trip to the island of Texel. Located off the upper tip of the Netherlands in the North Sea, Texel is home to fishermen, tourists on seaside holidays and sheep, lots of sheep. (Actually, we saw lots of sheep all over North Holland.)


Texel are a breed of sheep from the island that are now popular in other parts of the world for their lean meat. They have white faces and no wool on the face or legs. Of course, I was more interested in their wool than their meat.


We found some in Den Burg, the biggest town on the island, at a beautiful shop call De Witte Engel. You can see it right in front of the store in the wooden bin. It is quite a course, worsted weight yarn, available in natural colors. It reminded me a lot of the yarns I bought at the Kerry Woolen Mills in Ireland. Since I hadn't used the similar Irish yarn yet, I didn't buy any, but my mother-in-law bought enough to make the vest on display. What really blew me away about this store was the roving and felt. (Apparently, a lot of texel wool is sold as roving instead of pre-spun yarn.) The colors and thickness of true wool felt they had on hand were amazing!
Once again I was good and didn't buy any since I didn't have any projects in mind. I did though buy this book.


How could I resist all these adorable Dutch themed amigurumi. I have never crocheted anything but granny squares and the book in completely in Dutch, but still….

Don't worry, I didn't come home without any new yarn in my suitcase. At the street market in Delft, I picked up these two balls of Dutch sock yarn.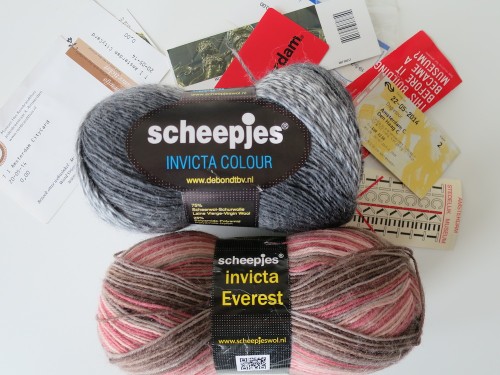 The pink and brown is a superwash blend. The grey is a virgin wool blend and I have to say, I have never used a yarn that smelled so, well, sheepy. It is well on its way to becoming a pair of socks for me thanks to downtime on the barge and flying.

Finally, I picked up these two beautiful skeins (which I already rolled into balls) of Swedish Ullcentrum yarn at a sweet little yarn and fabric store in Amsterdam, Weldraad. (This store also carried Texel yarn in a thinner weight which was very nice.)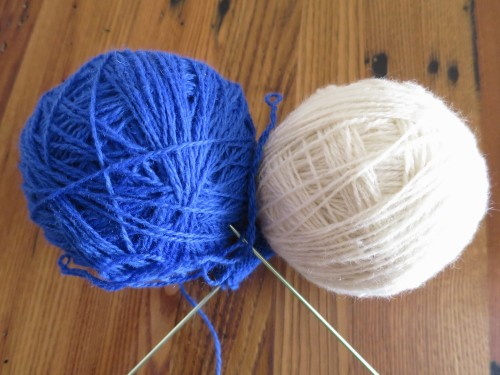 I was inspired to buy them because the colors reminded me of Dutch Delft pottery. They will become my June mittens which are also inspired by Delft and this beret that recently won 3rd place in the Make Your Own Masterpiece contest at the Rijksmuseum.
I hope you enjoyed my Dutch yarn tails. Stay tuned for those June mittens…


(Knit fish outside a snack shop in Hoorn)
If you are not reading this post in a feed reader or at http://justcraftyenough.com then the site you are reading is illegally publishing copyrighted material. Contact us at jcraftyenough AT gmail DOT COM. All patterns, text and photographs in this post are the original creations & property of the author unless otherwise noted.
© 2005 – 2014 Kathy Lewinski & Susan Cornish