We are having our first Disneyland adventure. We brought SO many princess dresses (obviously). Among them, we brought the Belle towel dress that I made.


This was worn as a cover up when we went to the pool. I was so proud of it and my daughter loves it. The best moment was at the pool when one of the Disney staff commented that they loved the dress. My daughter said, "Thank you, my Mommy made it." How GREAT! The Cast Member turned to me, impressed, and said, "I didn't think I had seen that at the store!"
It was really gratifying. So I can share that with you, my crafting circle.
If Belle isn't your thing, I also have a tutorial to make a Cinderella version.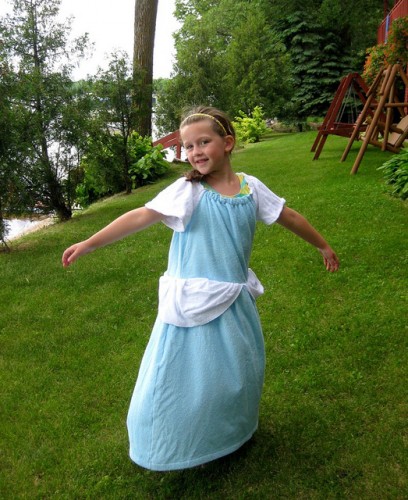 May all your crafting dreams come true!
If you are not reading this post in a feed reader or at http://justcraftyenough.com then the site you are reading is illegally publishing copyrighted material. Contact us at jcraftyenough AT gmail DOT COM. All patterns, text and photographs in this post are the original creations & property of the author unless otherwise noted.
© 2005 – 2014 Kathy Lewinski & Susan Cornish