Last summer on our vacation (days before I was chosen to be on Project Runway. Oh, wait. Did I just bring that up again?)  I was with my Mom and Sister-in-Law in the Red Pine Quilt Shop in Detroit Lakes MN. The shop is super charming and well thought out. The displays are varied and well done.
I spied the latest jelly roll and charm back on display from Moda. This really cool pattern went with the jelly roll called Zen Chic Cross It. I looked at it, and hemmed and hawed. My SIL said, "You should get it if you like it, because these things sell out. They only make them for a limited amount of time." Now, if someone in the store had said that I would have chuckled. "Oh, you can't really scare me into a "scarcity" purchase," I would have thought to myself. But here it was my own family saying to beware. I really looked hard and decided I could do my own combination close enough, plus there were some colors I didn't love in the roll. Really, did I have to buy their pack? Or could I just make my own up?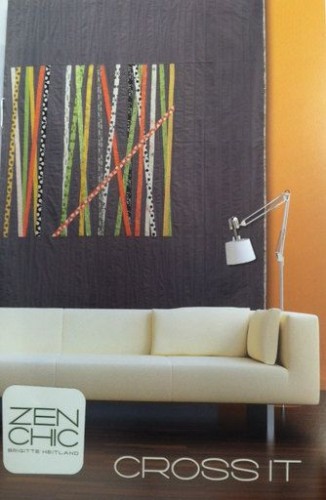 I most certainly did not need any more anything in my stash. Least of all a quilt, so I left it there. Yep, you can feel where this is going. That is "the one that got away". I have been haunted by it. My SIL can now sleep at night knowing her words were heard. The jelly roll in that quilt is not to be found. I can find some of the fabrics in the collection sold off the bolt, but no jelly roll. (Thankfully the pattern is still available and probably always will be.)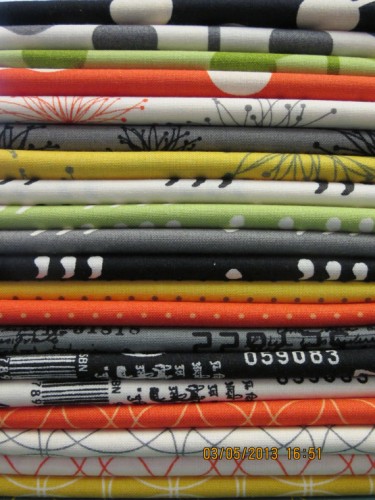 And the lesson is – if you see it, and you like it, BUY IT. If it does not make you happy later, you can sell it.  Use Etsy or Ebay or anything and you can get your money and then some. It won't be hoarding if you use it or sell it. But if you like it, heed my SIL's warning. Buy it then and there. Happy Quilting!
If you are not reading this post in a feed reader or at http://justcraftyenough.com then the site you are reading is illegally publishing copyrighted material. Contact us at jcraftyenough AT gmail DOT COM. All patterns, text and photographs in this post are the original creations & property of the author unless otherwise noted.
© 2005 – 2014 Kathy Lewinski & Susan Cornish