When I look at fabrics, I am drawn to the BOLD.
Anna Maria Horner
Flourish

Kaffe Fasset
Lake blossoms, Red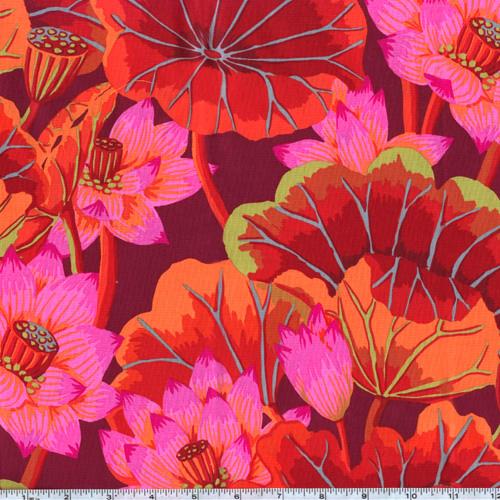 Oh my word, the pinks dance there. That is a BIG look. But I do love it.
These are the kinds of fabrics I bring home.
Then.
When I look at quilts, here are the ones that I like.
New wave pattern done in solids By Kelly at Live Love Create

Or "Wonky Log Cabin Sunshine" by Deux Petite Souris

Do you see the issue? It's all bold all day, but the quilts I like have minimal pattern in them and the fabrics I like are ALL pattern.
I will have to get (much) better at designing, to be able to go into the store and buy solids (beautiful solids) then create works that make me happy using the solids.
What do you have in your stash? Does it match what you sew with?
If you are not reading this post in a feed reader or at http://justcraftyenough.com then the site you are reading is illegally publishing copyrighted material. Contact us at jcraftyenough AT gmail DOT COM. All patterns, text and photographs in this post are the original creations & property of the author unless otherwise noted.
© 2005 – 2014 Kathy Lewinski & Susan Cornish