As I mentioned on Friday, I have challenged myself to design and (hopefully) knit a pair of mittens for each month of 2014. I have been furiously working away at the January mittens (while re-watching every season of Dowtown Abbey). Here's how far I have gotten.


January is a cold, snowy month here in Minnesota. This year it is especially cold, today's predicted windchills are -49F! This month's mitten celebrates those snowy days with a snowflake pattern knit up in soft grey and white. I strand the second color through the whole mitten, even when it isn't used on a row, to give the mittens a warm almost double thickness.
Update:
1/10 and the mittens are finished!


They were a really quick knit, just about a week from designing to finish. They are so warm and soft, I can't wait to wear them out.
A note about the yarn. I wanted to start these mittens right away, but couldn't find a grey and white I liked locally in a sport weight, which is what I wrote the pattern for, so I took a chance and picked up a dk (light worsted) weight. I was still able to get gauge, but the fabric is quite dense without a lot of stretch. I like it for the warmth factor, but think these would have knit up a little easier in the sport weight.
I'll show you my completed mittens in a couple days AND I've already started designing the February mittens in my head.
January Mittens
Download a pdf of the January Mittens
Follow the written pattern for construction details and the chart for color changes.
Size: These mittens are a women's medium, approximately 7.5 inches around.
Supplies:
Sport weight yarn in two colors. Approximately 250 yards per color. (I actually used a dk or light worsted yarn (Bernat Softee Baby) and could get gauge, but it made for a very dense fabric. Sport weight would work best)
Tools:
Four size 1 needles (or size needed to get gauge)
Stitch marker (s)
Scissors
Stitch holder or scrap yarn
Tapestry needle
Gauge: 8 stitches and 10 rows per inch
Skills Needed:
knitting in the round on four needles
basic increases and decreases
two color stranded knitting
reading a color chart
Abbreviations:
K – knit
P – purl
Kfb – knit into the same stitch through the front and then the back, increasing one stitch
K2tog – knit two stitches together, decreasing one stitch
M1r – pick up the bar between the last stitch you knit and the one you're about to knit, bringing the needle from the back to the front. Knit into the front of this stitch, increasing one stitch.
M1l – pick up the bar between the stitch you knit and the one you're about to knit, bringing the needle from front to back. Knit into the back of this stitch, increasing one stitch.
Pattern Notes:
Even though both colors are not used in every row I still like to carry the second color behind, twisting every three stitches, throughout the whole mitten (except the ribbing at the beginning). I feel like this gives the hand of the mitten a more consistent fabric and also makes them a little thicker for warmth.
Your Make Ones (M1l and M1r) will look neater if you make sure not to twist your colors in that spot the row before you do that increase. Otherwise the second color will show through.
Hand:
With main color, cast on 56 stitches. Divide between three needles. Join together, being careful not to twist, and place a marker between the first and last stitch to mark rows. Remember to follow the chart for the design.
Rows 1 – 10: k1, p1 until end
Row 11 – 30: k
Row 31: k18, kfb, k17, kfb, k18, kfb (59 stitches)
Start thumb shaping: (You may want to use stitch markers to mark before the first M1 and after the second.)
Row 32: k29, m1r, k1, m1l, k29 (61 stitches)
Row 33: k29, m1r, k3, m1l, k29 (63 stitches)
Row 34: k
Row 35: k29, m1r, k5, m1l, k29 (65 stitches)
Row 36 – 37: k
Row 38: k29, m1r, k7, m1l, k29 (67 stitches)
Row 39 – 40: k
Row 41: k29, m1r, k9, m1l, k29 (69 stitches)
Row 42 – 43: k
Row 44: k29, m1r, k11, m1l, k29 (71 stitches)
Row 45 – 46: k
Row 47: k29, m1r, k13, m1l, k29 (73 stitches)
Row 48 – 49: k
Row 50: k29, m1r, k15, m1l, k29 (75 stitches)
Row 51 – 52: k
Row 53: k29, m1r, k17, m1l, k29 (77 stitches)
Row 54 – 55: k
Row 56: k29, m1r, k19, m1l, k29 (79 stitches)
Row 57: k
Row 58: k29, slip 21 stitches on to a stitch holder or scrap yarn, cast on one stitch, k29 (59 stitches on the needles, 21 on a stitch holder)
Row 59: k28, k2tog, k29 (58 stitches)
Row 60 – 90: k
Row 91: k27, k2tog, k27, k2tog (56 stitches)
Row 92: (k12, k2tog)4x (52 stitches)
Row 93: k
Row 94: (k11, k2tog)4x (48 stitches)
Row 95: k
Row 96: (k10, k2tog)4x (44 stitches)
Row 97: k
Row 98: (k9, k2tog)4x (40 stitches)
Row 99: (k8, k2tog)4x (36 stitches)
Row 100: (k7, k2tog)4x (32 stitches)
Row 101: (k6, k2tog)4x (28 stitches)
Row 102: (k5, k2tog)4x (24 stitches)
Row 103: (k4, k2tog)4x (20 stitches)
Row 104: (k3, k2tog)4x (16 stitches)
Row 105: (k2, k2tog)4x (12 stitches)
Row 106: (k1, k2tog)4x (8 stitches)
Row 107: (k2tog)4x (4 stitches)
Cut tail and weave through 4 remaining stitches. Pull the tail inside the mitten and tighten. Weave in ends.
Thumb:
Put the 21 stitches on the stitch holder on three needles. Pick up two stitches from the hand placing a stitch marker between them.
Row 1: k2tog, k19, k2tog
Row 2 – 16: k
Row 17: (k5, k2tog)3x (18 stitches)
Row 18: k
Row 19: (k4, k2tog)3x (15 stitches)
Row 20: k
Row 21: (k3, k2tog)3x (12 stitches)
Row 22: k
Row 23: (k2, k2tog)3x (9 stitches)
Row 24: (k, k2tog)3x (6 stitches)
Row 25: (k2tog)3x (3 stitches)
Cut the yarn leaving a 6 inch tail and weave through the remaining stitches. Pull the tail inside and tighten. Weave in ends.
Copyright 2014 Kathy Lewinski JustCraftEnough.com
Do not duplicate for distribution, repost, sell or teach this pattern without permission.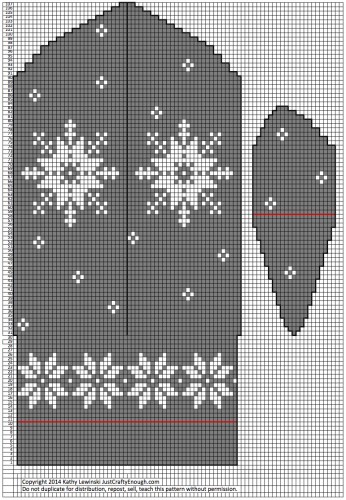 If you are not reading this post in a feed reader or at http://justcraftyenough.com then the site you are reading is illegally publishing copyrighted material. Contact us at jcraftyenough AT gmail DOT COM. All patterns, text and photographs in this post are the original creations & property of the author unless otherwise noted.
© 2005 – 2014 Kathy Lewinski & Susan Cornish