We are  looking for the right pieces to put in our new space. I am open to Craigslist, garage sales, and vintage, as well as the usual stores we love. I have been learning a lot about the value of a piece. Craigslist vs Ikea vs Named store. Here is one direct comparison for your amusement.
This is a table I found at a Thrift/Vintage shop

The price on this lovely piece is $200. There are even some panels in the wood as accents.
This table is in a collectors collection on One King's Lane.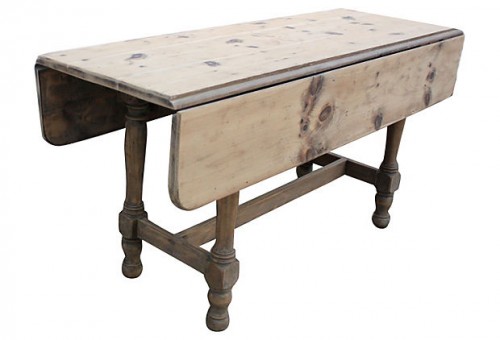 This is a rustic pine table. It is beautiful, but it does not have the detail in the leaves that the local table has. And the price: $2689.00 (on sale)
Can you believe?
Off to do more shopping! Virtual or other wise.
If you are not reading this post in a feed reader or at http://justcraftyenough.com then the site you are reading is illegally publishing copyrighted material. Contact us at justcraftyenough AT yahoo DOT COM. All patterns, text and photographs in this post are the original creations & property of the author unless otherwise noted.
© 2005 – 2013 Kathy Lewinski & Susan Cornish