You all know I love a map used in home decor and have admired more than one quilted map. Haptic Lab does some amazing map quilts of cities like San Francisco.


And this beautiful Great Lakes Quilt. (I could show you where I grew up on my hand and my quilt!)


These are gorgeous, hand-stitched quilts, the time that it must take to make one! The cities are queen-sized and the great lakes is crib size.
You can buy a finished quilt from them or you can buy a kit to make your own.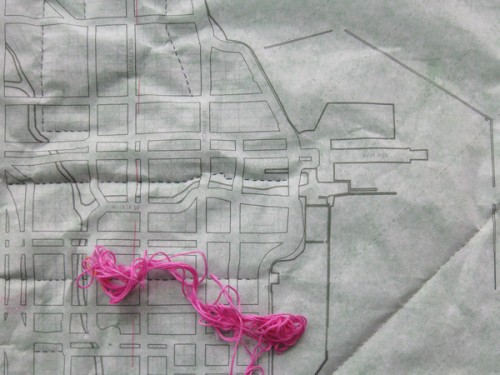 They offer a handful of cities, the US and a world map. You can buy the basic kit with just the map template and instructions or a kit with all the materials as well (for a surprisingly reasonable price). They also have an online visual guide to help through the steps of making one of these quilts. Now if they only have one of the Twin Cities….
Photos from Haptic Lab.
If you are not reading this post in a feed reader or at http://justcraftyenough.com then the site you are reading is illegally publishing copyrighted material. Contact us at justcraftyenough AT yahoo DOT COM. All patterns, text and photographs in this post are the original creations & property of the author unless otherwise noted.
© 2005 – 2013 Kathy Lewinski & Susan Cornish